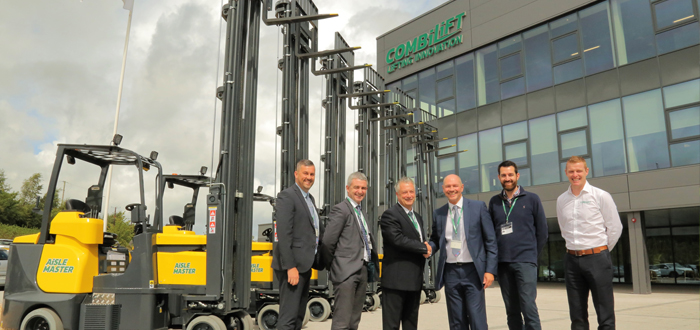 100th Aisle Master Articulated Forklift For Eddie Stobart.
The 100th Aisle Master articulated forklift to be delivered to Eddie Stobart was recently handed over to representatives of the company at Combilift's manufacturing facility in Monaghan, Ireland, where the Aisle Masters are manufactured.
Eddie Stobart acquired its first Aisle Masters for its Contract Logistics and Warehousing Division which operates over six million square feet of high quality state-of-the-art storage facilities, strategically located around major transport hubs across the UK. In the subsequent six years it has consistently expanded its fleet and the Aisle Masters are in operation at eight of Eddie Stobart's warehouses across the country, from Glasgow to London. The 100th truck will be displayed for a time at the company's service support centre in Warrington before being put to work in one of its busy operations.
Following changes in the Eddie Stobart business model and coupled with an increase in customer demand, a decision was made to introduce the Aisle Master product into the operation. Whilst ensuring continued optimum pallet density in existing narrow aisles was essential, the build quality and reputation for extreme reliability were the deciding factors in choosing these trucks.
Eddie Stobart's Warehousing Division operates ambient, chilled and specialist storage space for customers in the soft drinks, pharmaceutical, confectionery and FMCG sectors to name but a few, and the electric powered 20WHE models with 2000kg capacity are predominantly deployed in sites where fast moving goods are stored.
Eddie Stobart Materials Handling Equipment Manager Brian Smith, together with John Myers, Operations Manager Dagenham Depot, visited Combilift's new 46,500m² production facility to see the 100th truck roll off the production line. Brian Smith commented: "We have been impressed with the performance of the Aisle Masters to increase productivity in our warehouses over the years, and equally impressed with the accommodating and can-do attitude of the manufacturers when it comes to any suggestions we may have. I must add that the new Combilift headquarters and manufacturing plant was very impressive!"
Martin McVicar, MD of Combilift and Aisle Master said: "We value long term collaboration with our customers and the 100th truck for Eddie Stobart epitomises our philosophy of listening to customer feedback to provide them with a solution that is 100% suited to their requirements."