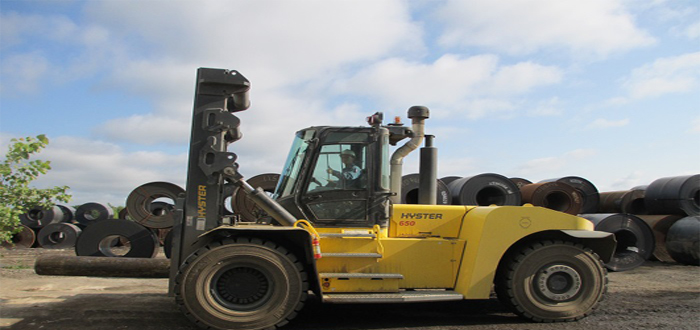 450°C COILS GET LIFTED BY 30 TONNE TRUCK WITH CHAINLESS MAST .
Hyster Company has adapted a 30 tonne lift capacity Hyster® forklift to simplify transportation of hot metal coils, while reducing truck wear and tear. Uniquely, the lift truck mast has no chain.
"The customer operates a steel mill and needed a durable solution for transporting coils that can have a temperature up to 450 degrees," says Chris van de Werdt, Commercial Manager for Hyster Big Trucks. "The challenge was that due to the high temperatures of the metal being handled, the chain grease and hoses on a regular forklift mast would rapidly wear out. An added challenge was that the truck needed to be able to move in and out of buildings where the driving height is limited."
The Hyster Special Engineering Department developed a solution where the Hyster® H30XM-12 was delivered with a direct lift mono mast and an integrated coil ram attachment.
"This direct lift mast uses only lift cylinders, removing the issue of maintenance of the mast chains," Chris says. "The tough coil ram attachment allows hot coils to be moved easily and even stacked two-high. Also, the restricted driving height of the truck has not been affected as the special mast design enables a full free lift with no parts extending above the mast at any time."
The rugged Hyster® H30XM-12 forklift is ideal for heavy duty applications and is particularly suited for operations handling metals and blocks. Featuring a 1200mm load centre, it has a range of carriage, fork and front-end attachments. With quick disconnect forks for fast attachment exchange, it offers the user maximum flexibility for handling varied heavy loads with just one truck.
"Even though Hyster® forklifts offer the reliability and strength to suit a heavy application, sometimes unique challenges need a custom solution. We work with our customers and partners to provide special engineering that not only helps get the job done, but, in cases like this, is essential for maintaining productivity and keeping maintenance costs low," says Chris.
The Hyster Special Engineering Department is located at the Nijmegen plant in the Netherlands, the global centre for Hyster® Big Trucks design, development and testing.