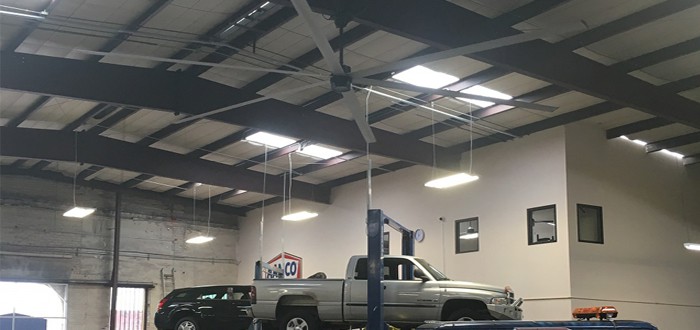 AAMCO Chooses MacroAir Fan.
Simplicity of MacroAir's design impresses engineer
Problem:
There was no way they could air condition the shop and they needed air circulation.
Solution:
They installed a 24-foot AirVolution-D 780 fan.
Result:
They were immediately impressed with the size and breeze created by the fan. The additional airflow makes technicians cooler and more productive in hot weather.
When Gary Keith, the owner of the Macon, Georgia AAMCO, invites visitors into the shop, they are immediately impressed with size and breeze created by the 24-foot AirVolution-D fan. "Every time we take someone out to the shop, they say 'wow'!"
But for Gary, the MacroAir design is equally impressive:
"I'm a mechanical engineer, so I looked at HVLS fans very closely and decided to go with MacroAir because of the simplicity of the design. We specialize in transmissions here, so I really didn't want a complex transmission up there! Your competitors did a lot of tapdancing, but fact of the matter is that MacroAir's fans have a lot less parts."
Because Macon, Georgia sits in a valley, it's one of the hotter areas in the state. Gary says that circulation is the key because there is no way they could air condition the shop.
"For our technicians to be productive when it gets hot, we need to provide them comfort."
The AAMCO in Macon, Georgia is in a unique, historic building that is a little over 100 years old. It truly is a charming addition to downtown Macon. To air in circulation, Gary fixed up the original air intakes in the front of the building. The MacroAir fan mixes up the air coming through the intakes and pushes it out the main door, creating a nice breeze. "My guys love it," Gary summarized. https://macroairfans.com