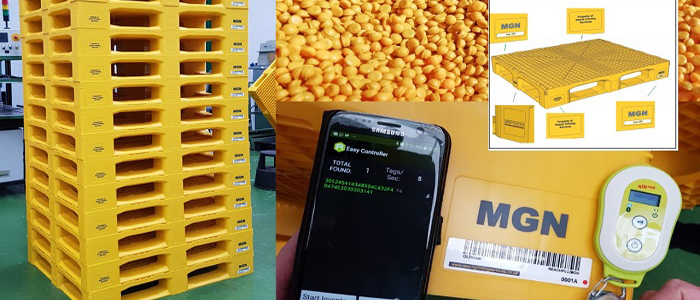 Adding Value through Listening to Customer Needs
At Exporta we pride ourselves on being the company that helps businesses become more efficient, competitive and compliant through supplying great quality Product handling solutions. 
Easy to say but not always easy to prove. Our Trustpilot score which rates us as 'Excellent' is one way to demonstrate our great service, quality and range of products. The other is through direct customer feedback and testimonials.
We have one such testimonial here from Reach Printing Services Ltd, the largest 3rd party contract print providers in the UK. They are a successful B2B business who have exacting standards in terms of quality and service expectations.
Reach first contacted us in August 2018 with a requirement to fix a couple of specific problems they were having with their pallets. The first problem was that they were breaking through normal use and therefore not giving them the right return on investment. The second issue they had was that they were also losing pallets from their network. No matter how they tried to keep track of the pallets they seemed to be reducing over time with no idea as to how or where.
They needed a pallet that would fit their specific needs for their usage and industry, one that would perform under normal use without failing. They also needed some way of identifying and tracking their pallets to minimise loss.
We listened to our customer and worked with them to create a solution that would meet the needs and requirements but also within budget limitations. We went through a process of testing various samples of different pallet types and configurations to see which worked best.
In the end, together we selected our 01-LPN1210G5 Heavy Duty Monobloc Industrial Pallet with an Open Deck and a 5 Runner configuration. This was the perfect pallet for the balance of durability, functionality and cost.
The second challenge in helping to reduce asset loss was solved in a more innovative way with two specific developments for the pallet. Firstly, we made the pallets out of virgin material in yellow and added Reach branding in blue. This made s the pallets not only distinct in colour, but also complements the brand identity making them very useful for marketing purposes.
Secondly, we added Barcoding labels with integrated RFID so each pallet can be tracked and traced at any point in the network. We also supplied the readers and software for the tracking which works alongside a mobile phone.
Once all the specifications were agreed an order was placed in February 2019 whereby the manufacture of these bespoke pallets was started and by May 2019 all deliveries were completed and received with satisfaction by Reach at their various locations. Reach have stated that they are "very happy with the new pallets".
In this process we added value to the customer by not only supplying a suitable pallet but by working closely with them to create a pallet that stands out from the crowd, is useful in marketing and is fully trackable and traceable – thus giving a great cost/benefit case and saving them money in the medium to long term.
This project shows the lengths that we go to in order to support our customers to solve their operational issues and challenges. Not all problems are as complex as this and not all solutions are so bespoke, but the same attitude and support is guaranteed from our highly experienced team no matter what the enquiry is.
We are the only company in the UK that can supply all your warehousing and product movement equipment and items. No one has the depth and breadth of range that we have and therefore we have published 'The Handling Manual' where you can find all that you would need to make your operation more efficient, competitive and compliant. Its FREE to all Warehouse and Logistics managers -just visit our website or call us to request your free copy.
We carry a vast amount of stock and a very wide range therefore in most cases we can deliver the next working day anywhere in the UK. Our range includes Plastic Pallets and Pallet Boxes, Wooden and Plastic Pallet Collars, Storage containers, Euro Containers and Tote Boxes, Plastic Crates, Warehouse shelving and racking, Workplace Equipment and Handling Equipment as well as a range of Workwear and PPE.
We are ISO 9001 and 14001 Certified so you are in very safe and competent hands.
Why not check out our brand-new Business Plus Account service for our customers – an account facility with loyalty and rewards integrated, giving savings and benefits to our customers. You can sign up to this Account online by visiting www.exportaglobal.co.uk/register/businessplus  
You can find us via our website www.exportaglobal.co.uk email us at [email protected]  or call us on 0808 159 6118.