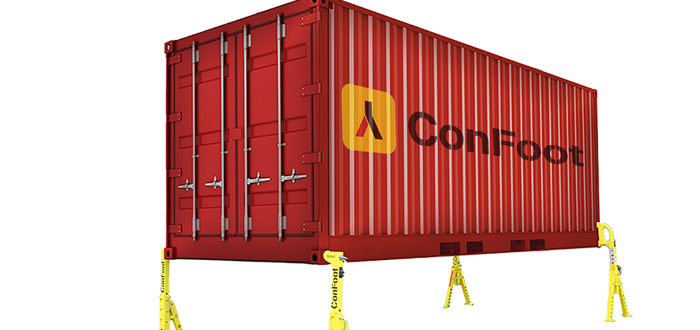 An easy, cost-effective and user friendly way to enhance shipping container logistics!
ConFoot legs, a recent innovation in the supply chain accessories industry, were designed from the ground up to solve a frustrating logistical problem. In the early 2000s Timo Akela, a Finnish entrepreneur, was approached by a friend who was importing furniture from Estonia to Finland. The friend would arrive at a retailer, with the furniture in a shipping container mounted on a truck chassis. The retailer did not have a dedicated warehouse team, and unloading the containers was painfully slow. With his chassis 'trapped' under the container for lengthy periods, Timo's friends' business had a poor turnaround.
Timo set about providing a solution. He envisioned a set of metal struts which could be fitted to the corner castings of a container in just a few minutes. This would allow a truck driver to lower the suspension of his chassis, and simply drive off, leaving the container free-standing. Timo was determined that above all, the struts had to be lightweight, low-cost and durable.
However, combining those three integral factors, whilst retaining the strength required to support a heavy container was far from simple. The research and development process took over a decade, with the combined efforts of a Helsinki based university and multiple engineers. Finally, discovering a special blend of high strength steels, Timo and his team managed to develop the patented design which is available today. Each ConFoot leg only weighs 24 kilograms, yet can support containers weighing up to 30 tonnes. It is the only truly portable solution on the market today, and eliminates the cost for small businesses to hire expensive cranes and side loaders. More info can be found at http://confoot.fi/en/