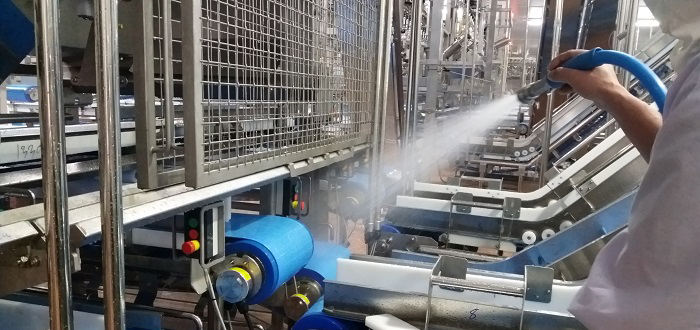 Asia's leader in poultry meat processing trusts Interroll's hygienic material handling solutions.
Interroll, together with three OEMs, installed hygienic belt conveyors that rely on Interroll drum motors for the Charoen Pokphand Foods (CPF) subsidiary in Thailand. The company is the world's largest producer of feed and shrimp and is a global top-three producer of poultry and pork, among other agricultural products.
With rising demand, CPF needed to significantly upgrade its production capacity while automating food processing in order to accommodate consumer needs inside and outside Thailand. The machines are expected to run 24/7 so the key point is to save as much energy as possible.
One of the most important concerns was aligning handling solutions with the company's philosophy that all chicken products must be hygienically produced and 100 percent safe for consumption.
From idea to operation
"For this requirement, the drum motor is the first choice. According to study at the University of Parma in Italy, drum motors offer significant advantages in terms of hygienic design and cleanability in place, which not only reduces the risk of soil accumulation and cross-contamination but also results in time and cost savings due to shorter cleaning times", says Nakapong Grisorn, Managing Director of Interroll Thailand. All latest-generation Interroll drum motors meet the highest hygiene requirements and are fitted with the highest degree of IP69K protection, which makes cleaning the facility much faster and easier and reduces the risk of product contamination in the food processing area.
Interroll installed in total 158 drum motors at CPF, increasing the daily capacity by up to 400,000 chickens per day.
A perfect conveyor belt solution
The three-OEM cooperation partners in the project—Mechanical and Food Process Engineering, Thai Mech Tech and Cheetah Engineering Systems—are satisfied with Interroll drum motors which enable them to save installation time and work easily.
Interroll's drum motors have proven themselves to be a perfect match with Ammeraal Beltech Soliflex PRO, are easy to clean and have high resistance to the cleaning chemical used in food processing.