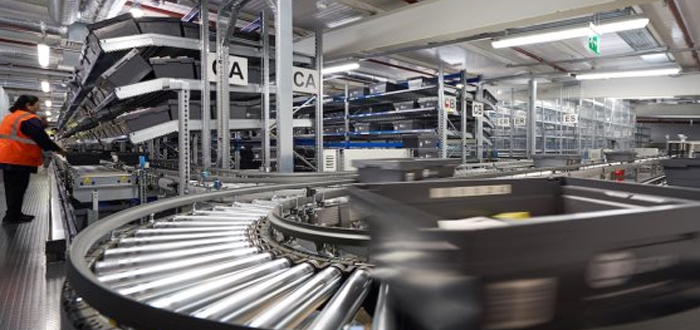 Automation Proves The Right Remedy For Sigma Pharmaceuticals.
Watford-based Sigma Pharmaceuticals has installed automated handling systems from KNAPP as part of its long-term growth strategy.
Family-owned wholesaler, Sigma Pharmaceuticals plc, opened its new headquarters and automated distribution facility earlier this year, with the ribbon being cut by Pharmacy Minister, Steve Brine MP. Automation has proven to be the ideal solution to meet the challenges of distributing Sigma's ever-growing business volumes.
Increasing Volumes
Beginning as a community pharmacy in 1982, Sigma Pharmaceuticals has grown to become one of the largest independent pharmaceutical distributors in the country, employing more than 400 people to serve over 3000 pharmacies, hospitals and doctors across the UK and Europe. As the business has continued to grow, its operations have had to evolve in order to maintain its high standards of customer service. Explains Sigma co-founder, Bharat Shah, "I started this business as a totally manual operation – filling up shelves, picking stock, packing it, putting it in a van and delivering it. The operation just became bigger and bigger, and things started to change. The next generation of the family came into the business and they questioned our manual operations because volumes were continually increasing and we weren't able to work efficiently."
Expansion And Automation
The company's existing warehouse in Watford relied on manual picking of orders using paper lists. Space was at a premium and staff found it increasingly difficult to work in what became a cramped environment. Sigma's solution was to acquire the adjacent building, strip it out entirely and design a new distribution system, along with modern and flexible office facilities. To help with this task, the company chose logistics automation specialist, KNAPP.
"Within nine months the building was ready," says Bharat Shah, "and in the tenth month we were ready to occupy the building. I think only a family business could have achieved these timelines. Our aim is to have capacity here to allow the site to be a national operation serving satellite depots all over the country within the next five years."
Automated Order Picking
The automated logistics solution supplied by KNAPP features a fully automatic 'A-frame' picking machine, combined with a paperless order picking system utilising radio frequency (RF) terminals. Goods arrive at the facility either in totes from the decanting area (on another site) or on pallets from the adjacent pallet warehouse. While the A-frame autopicker handles fast-moving products on the ground floor, medium-movers and slow-moving goods are picked on the mezzanine from a combination of flow racks and shelves into customer order totes circulating on an intelligent conveyor system, which has a capacity of 900 totes/hour. After picking, totes are conveyed to the ground-floor dispatch area for automated lidding and strapping, or for their contents to be repacked into cartons if they contain only a few items.
Fewer Returns
Sigma currently handles about 10 million tablets a day and the new facility will allow it to increase that number. The new distribution centre has the capacity to operate at the level of the busiest days of the year – December 23rd and 27th – every day for five years. The automation has also increased accuracy, as Pravesh Patel, Executive Director at Sigma, explains: "Due to the configuration of the system, we have been able to increase efficiency and picking accuracy; this has increased customer satisfaction with regard to delivering in full and on time, as well as reducing the number of queries and returns from our valued customers."