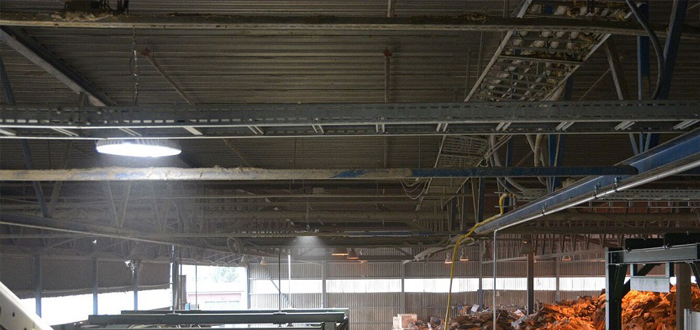 Award winning LED High-Bay manufacturer, Foreverlamp®, launches new Industrial HB Series designed to withstand the toughest environments.
Foreverlamp has expanded their LED High-Bay Series with a new Industrial LED high-bay fixture designed to withstand
wet, dusty and harsh industrial environments. The new HB Industrial Series fixture is IP66 rated and UL listed for wet
conditions and provides a super high efficiency high-bay lighting solution with up to 30,000 lumens. The rugged, low profile design is ideal for applications where oil, dust and water are an issue for lighting fixtures.
The DLC listed fixture is available in options up to 150 lm/w and is designed with industry-leading electronics that ensure each fixture maintains an exceptional temperature range of -40C to 55C (131F)
for the most demanding applications. With a wide range of lumen options from 18,500 to 30,000, the HB Industrial Series is suitable for ceiling heights up to 35' while providing superior optics and glare control. With four different mounting options, 0-10V dimming standard, and the option for an occupancy sensor, the HB Industrial
fixture offers great versatility in a variety of applications including warehouses, industrial, transportation, aerospace and outdoor area and flood lighting.
As the creator of the award-winning Foreverlamp™ LED Retrofit Plug and Play High-Bay LED Lamp Series, Foreverlamp continues to make their mark as the leader in Big Lumen high-bay solutions. This new fixture marks another powerful and versatile expansion of their cost-effective LED high bay offering of energy efficient lamps and powerful high-bay lighting solutions.
"We've had tremendous market acceptance of our versatile LED high-bay solutions both from our award-winning lamps
and growing line of LED High-Bay fixtures," commented Jim Sekinger, COO of Foreverlamp. "With over 250 installed
projects of 500 units or more our technology and quality speaks for itself. The progression to take our industry-leading
technology and product design and continue to refine it specifically to address the needs of the High-Bay market, allows us to deliver products designed specifically to deliver big lumen output. Our specific experience with LED high-bays enables us as a manufacturer to focus on this specialty market that has in that past often gone overlooked. With our technology and experience, we have the ability to deliver both an aesthetically pleasing and super high efficiency highbay lighting solutions that the market deserves."
Simple, lightweight, and delivers an easier, less costly solution to replacing bad magnetic ballasts, Foreverlamp's
versatile high bay solutions are available in the new HB Industrial Series and the HB Classic & Traditional Series with
each series listed on the DLC Qualified Products List and the HB Classic providing an option that is Premium DLC
qualified. Designed specifically to replace 250W, 400W, 750W & 1000W HID fixtures, Foreverlamp's line of LED high-bay fixtures deliver value, performance, and over 50% savings on energy costs compared to MH and HPS systems. The full offering of Foreverlamp LED high-bays and award-winning LED lamps can be seen at www.foreverlamp.com
Foreverlamp HB Industrial Series features include:
• 120V-277V / 347V-480V
• Up to 210W
• Super high-efficiency, Up to 150 lm/w
• Four Simple Mounting Options: U-bracket, Pendant, Hook and Cable
• 4000K / 5000K
• Housing constructed with Copper Free Aluminum
• 0-10V Dimming Standard, Occupancy Sensor optional
• IP66 rated / DLC Listed / UL Listed for Wet Location
• Typical payback is < 12 months
• 5 year LED driver
For additional information, www.foreverlamp.com.