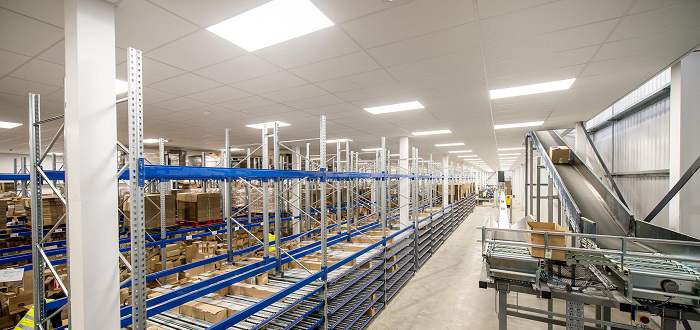 BITO suits growing demand for Proper Music.
BITO Storage Systems helps Proper Music transform its order picking and storage solution operations for its expanding business.
Proper Music Distribution is the biggest fully independent record distributor in the UK and can supply music from over 1500 labels from across the world, regularly releasing over 150 new products every week.
With an eclectic catalogue featuring over 1,000,000 titles that spans all genres from classical to jazz, country to world, rock and pop to dance, Proper Music bulk ships to retailers such as Amazon, HMV and all major grocers as well as over 300 independent record shops all over the country and overseas to distribute to customers. Demand from music lovers, collectors, audiophiles or gift buyers who want to buy physical product has driven continued growth in Proper Music's business. This led to its previous site in South London, equipped only with shelving, operating at over capacity and Proper Music outsourcing storage of 1000 pallets with a midlands-based third party logistics operator.
"As the industry's largest fully independent distributor of music, our previous site in South London had become too small for existing business, and due to us wanting to expand we required new premises and therefore a new racking solution to fit the future needs of the business," says Drew Hill, Managing Director of Proper Music Distribution.
The new premises were found in two new buildings at Questor industrial park in Dartford, Kent. Inside these buildings, Proper Music required an efficient and flexible order picking system, built around a dense storage solution that would optimise the space available in the building and allow for continued growth.
BITO devised a solution involving high bay pallet racking for the bulk store, and an order picking operation that would involve shelving located on a mezzanine, with a bank of carton live storage   and pallet picking positions for fastest movers located below. Together, the new facility would give Proper Music almost five times the space of its previous facilities.
"An extensive tender was completed and we found BITO to have extensive knowledge in this area alongside a capacity to explore all types of solutions for our current and future needs," says Drew.
Proper Music's team visited BITO's Experience Centre in Nuneaton several times to go through ideas to ensure the system would meet its requirements.
"BITO's experience centre was invaluable in order to evaluate all possible solutions and indeed to sit down with the project managers and engineers and discuss implementing these within the space provided," says Drew. "The environment really allowed us to think 'outside the box' and to find the best possible solution for our needs."
Inside Proper Music's new facility
The 37,000 square feet warehouse formed from units 1-3 at Questor houses Goods In, returns and bulk storage on BITO's high bay pallet racking. All deliveries arriving through the door of this building are scanned and sent to their locations, whether in the bulk storage pallet racking in this building or, in the case of small orders, directly into cartons in the other building.
The bulk store is configured in a narrow aisle layout, with articulated forklift trucks moving pallets in the 2.2 metre wide aisles. The pallets are stored in 3300 locations within the BITO high bay pallet racking, which provides five levels with a 7.5 metre top beam height. The 3.6 metre wide shelving between the uprights allows four Euro pallets to be stored within a bay or three UK pallets. Articulated lift trucks serve the 2.2 metre narrow aisles.
Every day, during the nightshift the bulk store replenishes the pick store in the 45,000 square feet pick, pack and despatch warehouse on the other side of the car park, which sends out up to 40,000 units per day.
The majority of Proper Music's pick face is located on the 25,000 square feet mezzanine, which was supplied and installed by Mezzanine international under the site control & management of BITO. This is where the picking operation commences.
Most of Proper Music's product catalogue comprises CDs with a smaller quantity of Vinyl LPs, DVDs and audiocassettes. These are all housed on BITO shelving in a mix of the company's existing cardboard bins and a number of new BITO RK plastic bins.
Three pick zones: A, B and C run from one end of the building. Picking instructions are generated for staff to commence the pick, beginning with Zone A, where bins on the shelves contain mixed SKUs in small quantities. Zone B is home to faster moving stock, often one title per bin. Zone C is where all vinyl LPs and box sets are stored.
While the vinyl revival continues to grow, it does present a trickier logistics proposition. A vinyl record is relatively expensive product compared to other music formats and is often purchased by audiophiles, collectors or gift buyers who expect it to be delivered in perfect condition, which requires handling with care and inspection in the warehouse.
Once picking on the mezzanine zones is completed, it is sent on to its next destination downstairs: either for an additional pick in Zones D and E, where the faster movers are stocked, or straight to despatch for exports or ecommerce.
A barcode label is placed on the box or tote containing the pick before being placed on a Knapp installed conveyor, which transports it down to the ground level where pick zones D and E are located, next to the despatch area.
Orders come down the conveyor from the mezzanine. Directed by reading barcodes on boxes.  If an additional pick is required it is sent down a spur for the picks to be carried out and then continues to despatch.
In Zone D, SKUs are located in a BITO Carton Live Storage (CLS) system and in Zone E, the very fastest movers are picked from pallets holding 1 or 2 titles per pallet on the ground floor level of racking located opposite the CLS. This racking has a replenishment location above the picking level.
BITO's gravity fed carton live storage accommodates sufficient stock for up to 3 months picking, and is configured to have one title per location, with each lane able to hold up to 8 trays. There's an area above the flow lanes for bulk storage, which can be brought down to replenish the carton live from the back to ensure SKU availability on the pick face.
"Due to the nature of our business, we hold over 150k different catalogue lines in stock, each having a different velocity in regards to demand," says Drew. "We found the carton live element a key driver of managing faster lines and indeed being able to manage the replenishment of these in a far more structured way than previously."
The installation
Proper Music took on the challenge of moving into the new facility from its existing building in South London, and consolidating approximately 1000 pallets of stock located with the 3PL into the bulk store, during the busy fourth quarter period of 2017, which of course includes Black Friday and Christmas.
Looking back at the installation, Drew recalls: "BITO worked with our builders and started creating the solution for our premises in August 2017 with the introduction of high bay racking. As soon as our pick, pack building was ready BITO started on the installation of our 25,000 square feet mezzanine floor and then onto our various racking solutions. Completion of this was concluded mid-November and we moved into all facilities on 24 November.
"The project was managed extremely well and BITO's onsite team were great in liaising with our builders to ensure we were able to move in pre-Christmas. All timelines in regards to project plan were met and overall we were extremely pleased with the end result."
Delighted with the difference that the BITO solution has made to Proper Music's operations, Drew says: "Compared with our previous premises, BITO's installation has allowed for a far more productive pick face and greater flexibility with the use of high bay, standard euro and flow racking all in operation."
He concludes: "We are very pleased with both the passion and involvement at design stage which continued through to project planning and then execution. The onsite teams were great and fully focussed on delivering a first class product and solution and were very flexible when changes were suggested and indeed made."