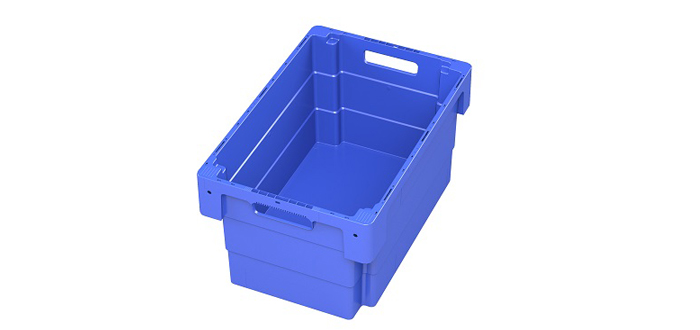 BITO's new U-Turn container: the lightweight space champion.
BITO has added a new container series to its product portfolio: the BITO U-Turn Stack & Nest Container maximises storage capacity and minimises occupied space on empty return transport to cut freight costs.
With a simple 'move – stack – turn – nest ' design, the BITO U-Turn container converts from a large-capacity container, offering some 20% more storage capacity than other similar stack and nest containers, into a space saving bin during empty storage or transport – without compromising on its lightweight construction and on stability.
It's clever design means that when in use, full boxes are both easy and very stable to stack and when empty, a simple 180-degree rotation allows nesting. This saves a lot of space whether the U-Turn container is used for storage or distribution. A hatched area on the container sides indicates by sight and by touch whether a container is in a stacking or in a nesting position. The clever design prevents a vacuum forming as soon as empty containers are nested which ensures easy de-nesting.
The competitively priced U-Turn is ideal for a range of logistics operations including e-commerce fulfilment.
Space efficiency
Warehouse, order picking and dispatch logistics often rely on bins and containers with a high storage or loading capacity. But once empty, the same bins and containers occupy a lot space unless they can be reduced in volume.
The BITO U-Turn's 3-stepped, almost vertical sides maximise volume utilisation. The design gives users almost as much volume capacity as a standard Euro-size stacking container, making the BITO U-Turn container one of the largest nestable plastic totes currently on the market. It offers the length for storing longer size individual items or unit loads. If loose goods have to be stored, the larger storage capacity means fewer containers are needed for storing the same quantity of goods.
When it comes to saving space when empty, the BITO U-Turn container is just as amazing. Thanks to its specific container side geometry, empty volume reduces by more than 60%. This means that space requirement in lorries also reduces by up to 60%, thereby cutting freight costs enormously.
Ergonomic design
As with all BITO bins and containers, good ergonomics was an important aspect when designing this series. This becomes clear when lifting the container to reveal ergonomically shaped handholds that make handling particularly convenient.
The U-Turn container is available with easy to grab grip holes or with grip pockets, which make full use of the container height by keeping the sides closed, making them ideal for storing small parts.
Automation base option
Depending on the base option, the U-Turn is also suitable for automated storage. Customers can select between three base options. A smooth, single-layer base is ideal for manual handling, offers a load capacity of 20 kg, has a low weight and is easy to clean.
Stack and nest containers with a ribbed base are perfect for storing and transporting heavyweight loads and for automated handling.
The welded double base option meets the high demands of Automated Storage and Retrieval Systems (ASRS) and of conveyor systems. The U-Turn container's huge storage capacity helps reduce the number of containers required for a specific product quantity, saving space within an ASRS and on a conveyor.
Useful optional extras
A drop-on lid, which is available as an option, protects contents from dust and dirt and can be security-sealed to prevent unauthorised access to your goods. Lids can be simply folded along their middle line and stored away, avoiding a cumbersome pile of lids from empty containers.
The range of accessories for the U-Turn also includes dollies for convenient in-house transport and label pockets. Bag holder bars, mounted on the upper sides of a container, are a particularly practical accessory for the booming online food retail business. Bag handles can be fixed to the bars that hold bags open for easy filling. Taking the bags off the bars is just as easy.
"By adding the U-Turn Stack & Nest Container to the EQ folding box range and the MB multi-purpose container series, BITO now belongs to the full-range suppliers in the field of volume saving bins and boxes," says Peter Kerth, head of the BITO product management. "Our latest container series comes in various dimensions and options to cater for all storage and distribution applications across a broad range of industry sectors looking for a product carrier that provides a huge storage volume when loaded and minimises space requirement when empty."
The BITO U-Turn container is available in a range of dimensions, options and with many accessories:
Dimensions (outside):
600 x 400 x 320 mm (from August 2018):  Volume: 60 litres
From 2019, customers can also choose from the following sizes:
400 x 300 x 220
600 x 400 x 220
600 x 400 x 420
Colours: blue, green, red, grey
Handholds: grip holes, grip pockets
Base options: smooth single-layer base, ribbed base, double base
Accessories: lid (foldable), security seals, dolly, label pockets, bag holder
A video demonstrating the BITO U-Turn is available at: https://www.youtube.com/watch?v=h_nhrU0Vo8w