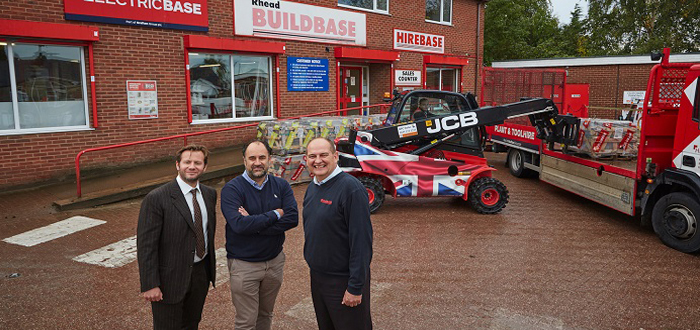 Buildbase support Royal British Legion with Union Jack Teletruk.
Buildbase – one of the UK's fastest growing builders' merchants with over 165 branches nationwide – has taken delivery of a specially-commissioned JCB Teletruk featuring a patriotic 'Union Jack' paint finish.
The truck was supplied by APC Forks, operator of the largest hire fleet of JCB Teletruks in the UK.
Each year APC commissions a Teletruk with a unique livery and donates a percentage of the truck's hire fee to charity. This year The Royal British Legion will benefit.
 The 'Union Jack' Teletruk is in operation at Buildbase's five-acre Stoke-on-Trent facility where it undertakes a range of handling duties.
Buildbase has operated Teletruks across its business for over a decade and the 'Union Jack' truck replaces a machine that had been working at the Stoke-on-Trent site for 14 years.
APC Forks sales director, Stuart Hunter, comments: "All hire profits from Buildbase's 'Union Jack' Teletruk will go to The Royal British Legion and help to support the excellent work that that organisation does."
The JCB Teletruk's unique features and benefits make it the perfect partner for builders' merchants such as Buildbase.
Launched in 1997, the truck's telescopic reach enables users to access curtainsided trailers from only one side. This functionality means the amount of floorspace required to load and unload pallets to and from incoming or outgoing vehicles can be slashed by more than 30%, while throughput speeds and on-site safety are also enhanced.
APC Forks is a trading division of Arnold Plant Hire Ltd.