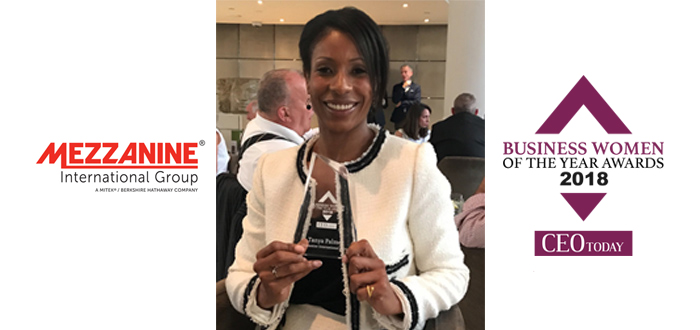 'Business Women Of The Year 2018'
Tanya Palmer is the Marketing Director at Mezzanine International Group, a MiTek®, Berkshire Hathaway company and one of Europe's fastest-growing mezzanine engineering firms. Tanya is responsible for all aspects of marketing – from market research and planning, to branding and communications. She joined Mezzanine International as Group Marketing Manager in 2015, quickly rising up the ranks.
In 2017, in recognition of Tanya's role in leading the repositioning of the firm for acquisition and growth, Tanya was promoted to the Board of Mezzanine International. Within six months of her appointment as its first female Board Director and Black Asian Minority Ethnic member, Tanya was invited by the Group President of MiTek Industries to participate in the MiTek Business Leadership programme at Washington University in St Louis, USA. There, she is contributing to an initiative to enable colleagues, from across 40 MiTek companies in nearly 100 country locations, to work together in the identification and exploitation of synergies, in service of top- and bottom-line growth.
[tpr-banner company='23']
As a member of the Senior Leadership Team at Mezzanine International, Tanya has played a key role in the introduction and co-ordination of the strategic planning process for the Group. Working closely with the Head of Human Resources, she has become the driving force behind employee engagement in the business strategy, ensuring day-to-day activity is aligned to the corporate strategic priorities to optimise performance, expand into new markets and develop fresh mezzanine products. In 2017, the business witnessed a revenue hike of 103% compared to 2016, with operating profit increasing by 240% in the same period.
In collaboration with the wider MiTek community, Tanya's vision is to establish the first truly global mezzanine brand, one which is synonymous with quality and innovation. To deliver this, she continues to apply the best practice skills and techniques she has gained – in organisational culture, gender diversity and strategic communications – having worked under the auspices of world-class change agents René Carayol MBE and Dr Sam Collins. Tanya believes that one of the key measures of success for Mezzanine International is the diversity of its talent base as the firm continues to deliver new market-led mezzanine solutions for an increasingly automated world.
In addition to her role on the Board of Mezzanine International Group, Tanya is also a Marketing Adviser to the Steering Committee of the Automated Materials Handling Systems Association (AMHSA). AMHSA represents over fifty of the world's major UK suppliers of automated intralogistics equipment and technology. Its members include: ABB, SSI Schaefer, Jungheinrich, Knapp and Siemens. AMHSA's membership has a combined turnover in excess of £250 million in the UK alone.
[tpr-boilerplate company='23']