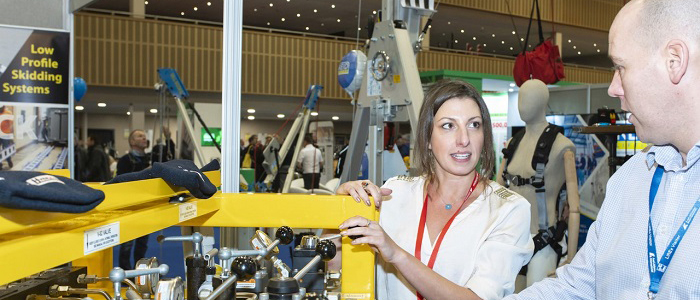 Celebrating 75 years of LEEA at LiftEx 2019
LiftEx 2019 is the free-to-attend flagship event of LEEA (The Lifting Equipment Engineers Association) taking place at the Marshall Arena (formerly Arena MK) in Milton Keynes on 13-14 November 2019. This year, the not-to-be missed global gathering for the lifting industry will be part of LEEA's 75th anniversary celebrations.
The Lifting Equipment sector is involved in a broad array of end-user markets including: rail, construction, renewable energy, civil engineering, entertainment, road & maritime transport, health & safety, utilities, logistics and manufacturing. LiftEx provides a dedicated event to address the many different challenges, solutions, regulations and best practice advice for these sectors under one roof – providing an ideal networking forum for over 1000 industry peers.
In a brand new addition to LiftEx, Day One will see The Innovation Award Showcase, sponsored by Industrial Training International (ITI). This dedicated home to demonstrations and presentations from the Innovation Award finalists pitching their solutions for votes from visitors will be the place to see cutting edge innovations for the industry. Visitors can cast their votes on the day, which will be added to those of the judges. The winner will be announced that evening at the prestigious LEEA Awards 2019. 

Hosted by TV presenter Rachel Riley, the LEEA Awards 2019 will be announced and bestowed at the LiftEx 2019 Awards Dinner on 13 November, at the DoubleTree by Hilton Hotel, which is within the Marshall Arena complex in Milton Keynes.
In another new development for 2019, Day Two of LiftEx will feature a sharp focus on training and knowledge in the Open Learning Zone. Here, LEEA Learning & Development and Technical teams will be offering visitors free training sessions and clinics. This will be an open learning environment for visitors supported by TEAM card assessment sessions, mini presentations on specific subjects and technical updates, with the opportunity to gain a certificate of CPD attendance.
Also on Day Two will be a programme of speakers delivering Business Support Sessions. These will offer free industry-specific advice to visitors on IT, GDPR, legislation, HR issues, and more.
In addition to these new developments, visitors to LiftEx 2019 will be able to catch up with suppliers, view demonstrations and explore the latest solutions from over 80 of the industry's top vendors. This will include a broad array of lifting equipment solutions from companies such as Atlas Winch & Hoist Services, Carl Stahl Evita, George Taylor Lifting Gear, Hird (UK), Modulift, Petersen Stainless Rigging, Reid Lifting, REMA, Rope and Sling Specialists, Speedy / Lloyds British, Sumner Manufacturing, Tiger Lifting and Van Beest. Visitors interested in lifting bags will make a beeline to the stands of Pinpoint Manufacturing and Unique Group. Codipro will be showing lifting rings.
Chains ropes and accessories will be featured by companies including Brindley Chains, Hendrik Veder Group (HVG), Latch and Batchelor, Talurit, Crosby, Sahm Splice, Tensology and William Hackett. There will be slings from Slingmax Rigging Solutions and Suhbo Industrial Co.
Exhibitors displaying height safety equipment include Checkmate, Delphini, SafetyLiftinGear, and Spanset Group. There will be load monitoring equipment from Straightpoint and Dynamic Load Monitoring, while Cabletrail and Certags are the stands for product identification.
Probst Handling Equipment will be showing materials handling products while Rapid Response Solutions will be for those interested in machine moving. Worlifts will be showing tools.
IT solutions include Asset management from CoreRFID for asset management and Motion Software for inspection. Training will be on offer from Industrial Training International (ITI) and trade associations will be represented by the Society of Operations Engineers (SOE) and, of course, LEEA (The Lifting Equipment Engineers Association).
For further information on LiftEx 2019 and the LEEA Awards, and to book tickets, visit www.liftex.org.