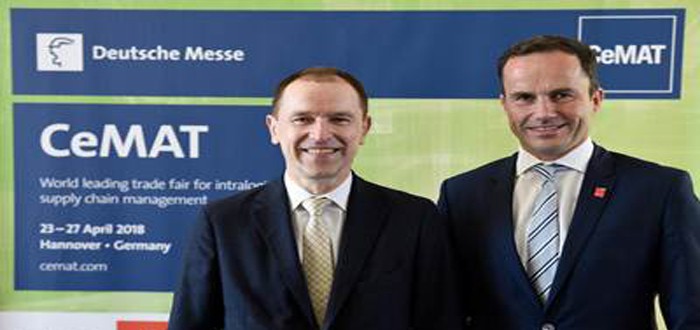 CeMAT 2018 brings integrated logistics to life.
Tandem shows – HANNOVER MESSE and CeMAT – shine a spotlight on integrated production and logistics
Hannover, Germany. Industry 4.0 and Logistics 4.0 are revolutionizing production and logistics in a major way. Soon, people and machines will be communicating freely, as logistics becomes part of the production process, making a decisive contribution to intelligent supply chain management. "Production and logistics processes are in the process of becoming intelligently integrated, enabling even more efficient, flexible production processes. At CeMAT we will be making this integration tangible and will demonstrate the resulting potential," reports Dr. Jochen Köckler.
By staging CeMAT and HANNOVER MESSE in tandem, the tradeshow organizers at Deutsche Messe have created a unique platform for international logistics decision-makers. Professional attendees will be able to get a close-up view of the future integration of supply chains and how intelligent logistics can be used to optimize production.
Additional CeMAT highlights include logistics solutions for retailing and logistics services. Efficient logistics processes are of critical importance to the business success of online and bricks-and-mortar retailers, requiring complex shipping structures, including a high degree of automation and efficient returns management. The customer decides when, where and how he or she wants to buy, and even 100% online retailers as well as conventional retailers need to continually increase the efficiency of their supply chains, along with their own productivity, to remain competitive. At CeMAT you'll find the right logistics systems for omni- or cross-channel solutions. "Anyone who wants to command the complexity of logistic chains need to visit CeMAT," asserts Dr. Köckler. "No other comparable trade fair has the same breadth of offerings when it comes to complete logistics systems," he adds. The Italian company Metalsistem for example has already announced an expansion of its tradeshow booth to 1,000 square meters to allow it to display its entire range of retailing logistics solutions.
Logistics 4.0 meets Industry 4.0
Located in the immediate vicinity of the automation halls at HANNOVER MESSE, Hall 19 is the place where Logistics 4.0 and Industry 4.0 come together. This is where specialists from heavy industry and the intralogistics sector will appear on all five days of the show at the "Logistics 4.0 Forum", with the focus on the opportunities for integrating production and logistics. A key focus will consist of mobile robot solutions, which are increasingly common in production and warehouse settings and are key to making work easier for humans. And the charge carriers have also become mobile, driving autonomously through warehouse or production buildings and conveniently communicating with one another based on gestures generated by wearables. "The active sharing of knowledge and experience between production and logistics is going to bring new ideas and findings for both sides," explains Köckler. "In Hannover we will be putting both worlds together and showing how, on the basis of best-practice examples, the increasing complexity of logistics processes can be kept manageable in today's digital economy."
Visitors to the "Logistics 4.0 Experience Hub" will be able to see what this looks like in practice. On an area of more than 2,500 square meters, exhibitors from industry and logistics will showcase the combined future of both fields. An additional attraction consists of Guided Tours organized by Deutsche Messe on the topic of "Logistics 4.0 Meets Industry 4.0". These tours will take tradeshow visitors on a trip to fascinating exhibits from the world of advanced manufacturing and logistics, providing them with a quick and convenient overview.
This year, HANNOVER MESSE 2017 will feature more than 200 companies, showcasing approximately 400 products geared to logistics processes. This will include systems providers, sensor manufacturers, logistics consultants and logistics software providers. And this range of offerings will be substantially expanded at next year's CeMAT show in 2018, where some 1,000 exhibitors are expected – more than 50% of them from outside Germany. The international appeal of CeMAT is a big plus – on the exhibitor as well as the attendance side. "The number of registrations received so far is highly satisfactory, even a year in advance," explains Dr. Köckler. "We have already signed up manufacturers like Jungheinrich, Still, Toyota Materials Handling and BYD, who will all be there to showcase their products and solutions."
2018 will see the parallel staging of CeMAT and HANNOVER MESSE. The upshot will be attendance of over 220,000 decision-makers, who will travel to Hannover to see how Logistics 4.0 and Industry 4.0 are capable of producing completely new solutions and business models as well as the potential of integrated logistics for their own companies.
(Deutsche Messe AG): (l-r) Dr. Klaus-Dieter Rosenbach, Chairman of the VDMA trade association Materials Handling and Intralogistics, Member of the Board of Management Logistics Systems, Jungheinrich AG, and Dr. Jochen Köckler, Member of the Managing Board, Deutsche Messe AG, at the CeMAT press conference on 26 April in Hannover