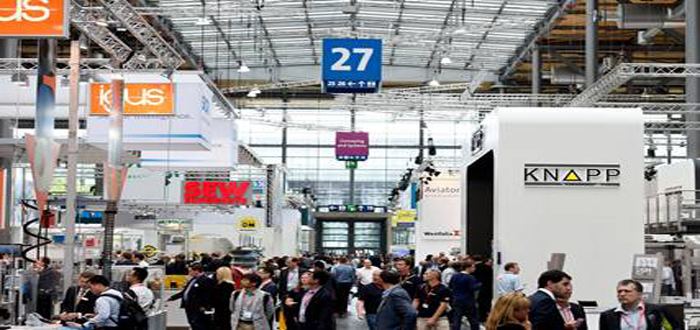 CeMAT – New synergies between intralogistics and production.
CeMAT exhibitors stand to benefit from close proximity to HANNOVER MESSE
Hannover, Germany. Next year's CeMAT – the World's Leading Intralogistics Fair – will have a completely new look, being co-located for the first time with HANNOVER MESSE. The traditional time of year will also change: Instead of a biennial appearance in May or June, the logistics industry will be showcased from 23 to 27 April in pavilions 32 to 35 as well as in adjacent halls at the Hannover Exhibition Grounds.
The close proximity to HANNOVER MESSE will generate new synergies and provide a unique platform for Industry 4.0 technologies and concepts. CeMAT exhibitors will profit from these new opportunities, showcasing themselves in a technology-friendly environment where they can shine a spotlight on their innovations and solutions before an audience of more than 220,000 attending professionals.
"We are delighted at the decision to co-locate CeMAT and HANNOVER MESSE," declares Axel Wahle, Marketing Director at Toyota Material Handling Europe. "On the one hand, CeMAT will be retained as an international exhibition, giving us the opportunity to highlight our new intralogistics solutions, products and services. On the other hand, we can now invite additional visitors from industry and production to visit us at our stand – an exciting challenge that we are going to tackle with enthusiasm." Production does indeed depend to a significant extent on synchronized logistics. Modern production logistics goes hand-in-hand with minimum stock levels, a considerably higher degree of variability and integrated data structures. "We practice this philosophy in our plants using the Toyota Production System (TPS)," explains Wahle, "and the new, combined event is going to give us the opportunity to approach potential customers from industry and production." Wahle adds that trade visitors in Hannover will be able to see how the Toyota Production System integrates logistics and how Toyota is gearing up to face the challenges of the future. The spotlight will also be on new products and systems, according to Wahle, along with numerous new services.
"We are experiencing major changes in production and, consequently, production logistics," remarks Thomas A. Fischer, General Manager for Sales, Marketing and Service at STILL. "Due to the trend towards digitization, the requirements for logistics providers are also changing – away from a demand purely for individual industrial trucks and towards solutions for entire fleets and integrated systems. Customer requirements are becoming more individual, demanding solutions from a single source – trends that will also be shaping CeMAT 2018." STILL is expecting additional trade visitor attendance to be generated by the other display sectors at the co-located HANNOVER MESSE 2018. The company will once again occupy a pavilion and feature as one of the leading industrial truck manufacturers at CeMAT, reports Fischer.
For Hamburg-based intralogistics provider Jungheinrich, the topics of automation, digitization and energy efficiency will serve as the focus of the 2018 exhibition year. "The new unity of CeMAT and HANNOVER MESSE means the fusion of two flagship fairs," says Corporate Spokesperson Benedikt Nufer. "This represents a major opportunity for us to showcase the latest Jungheinrich innovations before an even bigger audience."
Stuttgart-based Viastore is also hoping for additional momentum from the new trade fair concept. "The companies who are visiting and exhibiting at HANNOVER MESSE are extremely interesting for us," according to corporate spokesperson Dr. Matthias Schweizer: "It basically comes down to how well we can manage to persuade their logistics and IT managers to attend CeMAT." Here not only Deutsche Messe, but also the exhibiting enterprises will need to develop highly functional ideas and concepts, he says. "We will moreover need to convince logisticians from retailing companies, food, textile, chemical and pharmaceuticals to visit CeMAT. We see major opportunities for integrating production and intralogistics." Viastore is planning to showcase software and systems solutions which are capable of efficiently integrating and managing complex materials handling processes.
The Austrian-based Knapp company is currently still in the planning phase. "What I can tell you is, there was already a high level of interest in Industry 4.0 topics at the most recent CeMAT," says marketing director Margit Wögerer. "We are expecting the co-location with HANNOVER MESSE to generate new synergies which will allow us to concentrate on solutions that support the requirements of Industry 4.0."
"Virtually every sector of industry uses our intralogistics solutions," reports Klaus Tersteegen, Managing Director of SSI Schäfer from Neunkirchen, Germany. "But industry remains a key focus," he adds. According to Tersteegen, CeMAT 2016 impressively underscored that the intralogistics sector is ever more strongly driven by IT and is becoming increasingly integrated with industry. "Based on the concepts surrounding Industry 4.0, this trend is sure to further progress and produce an even closer interconnectedness between logistics and production. For this reason, we welcome the decision of Deutsche Messe to stage CeMAT 2018 concurrently with HANNOVER MESSE." He says that SSI Schäfer intends to help actively shape this process: "This is because intelligently connected products and processes, secure technologies and highly-developed software modules are the key elements of our smart intralogistics solutions, which is how we will be showcasing ourselves at CeMAT 2018," says Tersteegen.
Following its successful debut appearance at CeMAT 2016, the Munich-based Magazino technology startup will be back for next year's event. "By exhibiting at CeMAT 2018, we want to lay the foundation for the successful internationalization of our enterprise," reports Frederik Brantner, Magazino CEO and founder. "The proximity to HANNOVER MESSE means that, in addition to traditional logistics clients, we'll attract potential business customers from the manufacturing industry. Our perception-controlled TORU and SOTO robots provide for flexible automation solutions for an entire range of manual intralogistics processes. This way we are helping drive the digitization of order picking processes, using our robots to bring artificial intelligence to the warehouses of online retailers. Logistics 4.0 provides us with a gigantic opportunity to turn Magazino into a global market leader for intelligent order picking robots."
Integrated logistics and retailing
"CeMAT 2018 brings the entire intralogistics industry together with Supply Chain Management within the scope of a single event – from the manufacturer to the end customer, everyone here is under the same roof," comments Mirco Briosi, General Manager of the Italy-based Metalsistem company. "Thanks to the cooperation with Deutsche Messe, the exhibition will be expanded next year to include the retailing and store construction display sector." For the first time in the history of the company, trade fair visitors will be able to view more than 20 Metalsistem product series on a stand measuring 1,000 square meters, as well as a hospitality area on the warehouse stage. "For the first time, the integration of logistics and retailing in Hannover will provide a complete panorama of the synergies generated by the harmonious interaction of products and solutions," explains Briosi. "In the store construction sector, the SIDAC product program will be displayed together with Geoclass checkout barriers, Euroscacco shopfitting racks and a number of specific solutions like checkout counters, glass showcases and numerous ideas for product presentation."
The concurrent staging of CeMAT and HANNOVER MESSE next year will draw more than 220,000 decision-makers to Hannover, anxious to see the potential of integrated logistics and Industry 4.0 concepts for their enterprises, helping drive new solutions and business models. www.cemat.de