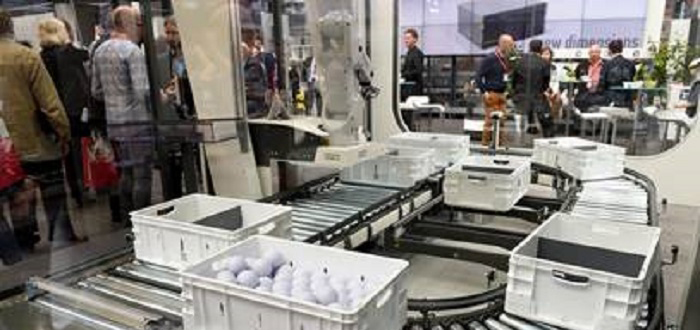 CeMAT RUSSIA: Recovering economy a boon to logistics industry.
This year's CeMAT RUSSIA, the Russian Federation's leading intralogistics trade show, will open on 19 September with around 150 exhibitors. After years of recession, the Russian economy is back on the up and up – a fact that will be clearly evident at the show, with intralogistics providers buoyed by the twin benefits of a growing eCommerce sector and increased imports by Russian companies. According to Alexei Fedorov, President of Russia's Association of Internet Trade Companies (AKIT), Russia's eCommerce sector surged by 21 percent in 2016. Valued at some 15 billion euros (920 billion rubles), the Russian online shopping market is still a long way behind its German and British counterparts, but it's catching up fast. This growth is driving Russian demand for logistics centers, which are now springing up in and around the country's major cities. Not surprisingly, local interest in the latest internal logistics and warehousing technologies is very strong. Mindful of this, the organizers of CeMAT RUSSIA will be staging two forums alongside the show's exhibitions.
Themed "Efficient management of company intralogistics", the forums will explore current trends in logistics, such as drones, the Internet of Things and cloud solutions, and outline current best practice at some of the world's leading companies. Last year, these forums attracted 480 participants.
The exhibitors at CeMAT RUSSIA 2017 include top manufacturers, such as Beumer, BITO, Jungheinrich, Kaup, Manitou, PSI Logistics, SSI Schäfer, Still, the TVH Group and Vanderlande. Many of the exhibitors have in fact been with CeMAT RUSSIA since it was first launched in 2010. Jungheinrich, the Hamburg-based manufacturer of industrial trucks and logistics systems, is a case in point. Russia is a key market for Jungheinrich, as Luuk Snijders, CEO Jungheinrich Lift Truck, Moscow, explains: "For us, Russia is one of the most important markets in Eastern Europe. Having suffered a major downturn in 2015, it recovered significantly in 2016. For instance, in 2016, our industrial truck orders from Russia increased by a very pleasing 40 percent compared with 2015, and for 2017 we're predicting the Russian market to grow by about 15 percent. We expect that CeMAT RUSSIA will yield quality dialogue and leads with customers both current and new."
Quality visitors with senior decision-making authority
CeMAT RUSSIA 2016 attracted a total of 4,759 visitors – up 9 percent from 2015. 29 percent of these visitors were from the wholesale and retail sector, 21 percent from manufacturing, and 20 percent from warehousing and industrial subcontracting. "CeMAT RUSSIA has made a name for itself in the market and has built up a visitor following that comprises a very high percentage of decision makers. Demand for intralogistics solutions is growing at the moment, and so hopes for this year's CeMAT RUSSIA are running high," commented Krister Sandvoss, Global Director CeMAT at Deutsche Messe.