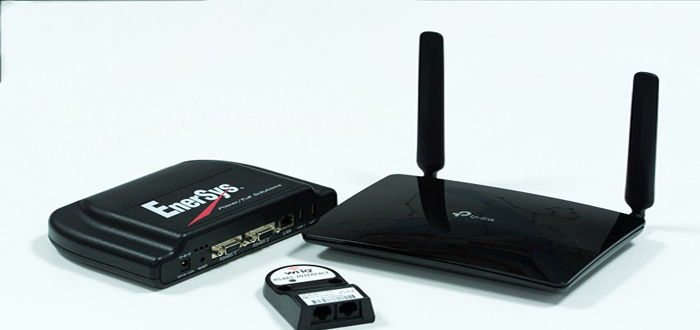 Cloud-based Xinx™ battery operations management system promotes warehouse productivity.
EnerSys® (NYSE:ENS), the global leader in stored energy solutions, has launched its new intelligent and user-friendly Xinx™ cloud-based battery operations management system. The Xinx system reads Wi-iQ® battery-mounted monitoring devices and transmits all their measured data to a cloud server. Here, an advanced EnerSys-designed algorithm processes and analyses the data to provide reports on battery usage and recommendations for improvement.
This provides a smart and simple way to reduce losses and boost productivity through energy savings, optimised battery change, service on demand and sustainable zero battery change operations.
"As customers expect increasingly lower costs and faster deliveries, warehouses must respond with ever-improving efficiencies," said Orjan Eriksson, Commercial Application Manager Monitoring & Solutions – EnerSys EMEA. "One way to realise this is by exploiting the best and latest technologies to achieve more productivity with less wastage and sustainable energy efficiency strategies."
He continued: "Reviewing the warehouse's motive battery management can provide significant opportunities for such improvements, as current installations typically achieve just 58% efficiency. Poor operator practices, inconsistent maintenance, underperforming batteries and chargers, wrong-sized fleets, uninformed purchase decisions and lack of technology are key factors. Many managers realise that they could make better decisions if only they had the right data – but the problem has been in how to collect essential battery status and deployment data, and present it to operators and managers on demand, in a format they can readily understand."
The Xinx battery operations management system from EnerSys answers this need. The intelligent Cloud-based system combines EnerSys' many decades of leadership in battery technologies with a comprehensive Industrial Internet of Things (IIoT) strategy. It collects data from multiple sensors into Cloud computing resources, before analysing that data to produce accessible, easily-understood and actionable information. This information aids both tactical responses to current situations and strategic planning for longer-term improvements.
The Xinx system operates with Wi-iQ – a battery mounted monitoring device that measures temperature, water level, discharge current, charge current, cell voltage balance and charge state data. The Wi-iQ device transmits this data through a Xinx system gateway and cell modem to the cloud-based Xinx Efficiency Management Portal. Here, an advanced algorithm processes and analyses measured data to provide 24/7 online reporting, covering pool usage and recommendations for improvement.
This reporting, together with additional expert analysis, enables easy implementation of warnings, improvements and analytics. The data can also provide forecasts and generate budgets for future investment. Batteries that are underperforming or require test or repair are highlighted.
The Xinx battery operations management system improves cost control, productivity and safety in several key areas. One way it does this is by highlighting opportunities for better operator compliance, training and management. Perhaps more significantly, it also reveals opportunities for improved battery changing discipline and fast opportunity and equalisation charging. Additionally, poor battery and charger performance are addressed, meaning services for repairing and replacing batteries can be mobilised faster. Furthermore, its ability to flag up proper watering and equalisation processes can help directly increase battery run-time and longevity.
Overall, the solid data-driven evidence provided by the Xinx system helps drive optimised decision-making. It facilitates both short and long-term budgeting and proper sizing of a battery fleet. Enhanced return on investment and boosted profitability are assured through energy savings, improved battery management and elimination of on-site data-collection visits.
To support customers in using the Xinx battery operations management system, EnerSys has developed a range of services that can be tailored depending on individual needs. Xinx System Support Services link the cloud-based system to the local and manned service operations that EnerSys offers and provides customers with customisable options to help optimise their battery fleet requirements. Silver, Gold and Platinum service levels are available, with each tier offering an increased level of reporting and on-site support. For more information about Xinx System Support Services customers are advised to contact their local EnerSys sales representative.