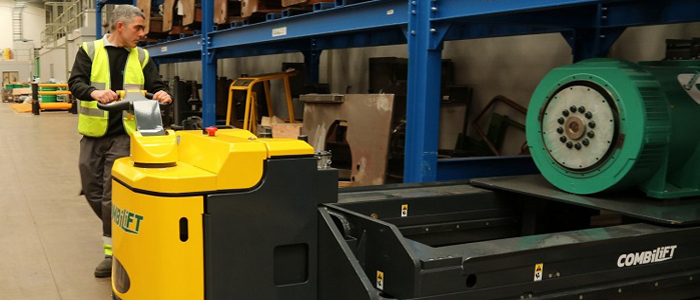 Combilift and Aisle Master: four stands, plenty to see
With around fifteen exhibits at this year's IMHX, visitors to the four Combilift and Aisle Master stands will be spoilt for choice. Some of the company's larger products such as the Combi-SC Straddle Carrier will be on show in the outdoor area, and the stands just inside the entrance to Hall 18 will feature a wide variety of customised, innovative handling solutions that are hallmarks of this Irish manufacturer. Two new products are making their UK show debuts at IMHX: the Combi-PPT powered pallet truck and the Combi-CSS Container Slip-Sheet.
The Combi-CSS was designed for quicker and easier mechanised loading of long products into containers. It is a 30,000 kg capacity low free-standing platform with a dual-directional motor-driven pulling mechanism, on which a steel sheet rests. A full load can be prepared on the sheet which is then guided into the container and a 20' container can be loaded in just three minutes. When fully loaded, a hydraulic rear barrier gate swings across the container opening and is locked in place. This holds the material within the container while the metal sheet is slipped out from underneath it.
The Combi-PPT, which won the Safety Category of the FLTA Awards for Excellence 2019, is a high performance pedestrian operated powered pallet truck, with capacities from 3,000kg up to 16,000kg. It enables very large and bulky products to be manoeuvred with ease in confined spaces, ensuring maximum safety when working in areas where other personnel are present, in production plants for example. It features Combilift's unique, patented multi-position tiller arm that is used in all the company's pedestrian models. This incorporates tiller and operator offset position with the touch of a button, allowing for excellent visibility and reducing crush risk to the operator.
Exhibits will also include small pedestrian stacker trucks, variants of the original multidirectional C-Series, stand-on narrow aisle forklifts, the heavy duty XL range, Combi-CB counterbalance design 4-way models and Aisle Master articulated forklifts.
Managing Director and CEO Martin McVicar comments: "We have an even larger stand space than at the last event which allows us to showcase our ever growing range and we will be sticking to our very successful IMHX formula – a mix of new products, live demos and entertainment!"