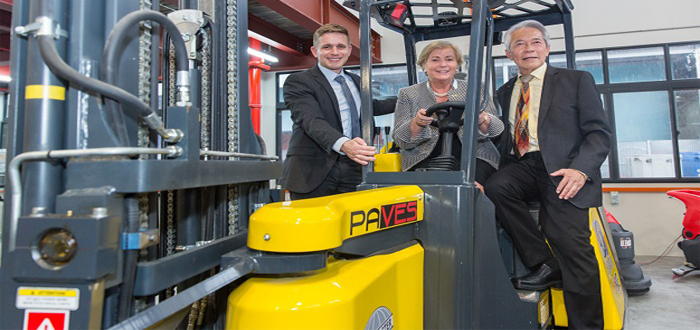 Combilift branches out in Singapore.
Combilift, the Irish manufacturer of multi-directional forklifts and other innovative handling solutions, has signed a contract with Paves Asia Pacific PTE Ltd to launch its Combi-SC straddle carrier product in Asia.
Paves Asia Pacific PTE Ltd. is a supplier of construction equipment and has been named as one of the leading specialists in its field. The contract signing was witnessed by Frances Fitzgerald T.D., Minister for Business, Enterprise and Innovation and Julie Sinnamon, Enterprise Ireland during a joint Enterprise Ireland / IDA Ireland trade mission to Singapore at the end of in September 2017.
Combilift also delivered 3 top of the range Aisle-Masters to Sinwa Global's new warehouse in Singapore during the trade mission. Sinwa is a regional marine supply and logistics company with a network of companies throughout Singapore, China and Australia.
Commenting on the contract signing Martin McVicar, Managing Director of Combilift said it was a significant development. "We are very pleased to further cement our relationship with Paves. Combilift has worked with this prestigious company since 2013 but this is the first order it has placed for a Straddle Carrier. This contract will allow us to develop the market for our products in Singapore."
Martin McVicar added that the contracts signed during the trade mission are worth in the region of € 500,000. "These are a further boost for Combilift's products which are enjoying increasingly strong sales around the world in a wide variety of industry sectors." The Co. Monaghan-based company, which reported turnover of some €200 million last year, exports 98 per cent of its products.