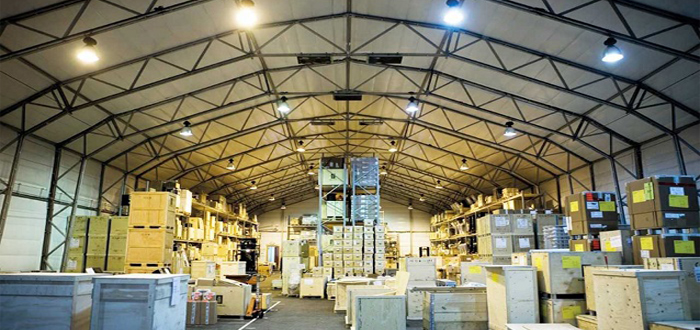 Cost effective alternative warehouse solutions at Breakbulk 2018.
This year at Breakbulk Europe 2018 you will be able to discover the Rubb difference at stand 460 – Hall 4. Rubb Buildings Ltd will be showcasing our high quality insulated bulk storage warehouses.
Custom designed to adapt to ever changing port demands. Rubb buildings are a cost effective alternative and sustainable solution to conventional structures, which are able to adapt to the changing requirements of the end user. Large clear spans and high translucent ceilings provide a bright efficient 24-hour working environment for all port and storage operations. These port storage buildings are fully relocatable or extendable to meet changing harbour and storage logistical needs. Rubb warehouses can be designed to custom shapes to maximise use of space.
Breakbulk Europe has been the networking hub for industry professionals for more than a decade. Alongside Rubb, cargo owners, ocean carriers, freight forwarders, ports/terminals, heavy haulers and equipment companies will be showcasing and discuss new products and solutions to straighten our specialised industry. Breakbulk Europe 2018 will also be providing a dynamic conference arena along with a range of educational and training workshops.
Rubb Buildings Ltd has more than 40 years' experience designing, manufacturing and constructing high quality, code compliant, engineered fabric tensioned buildings and shelters. Rubb structures are custom designed to support a wide range of industries around the world.
Rubb Advantages
* More than 40 years' experience
* We offer a 20 year warranty
* Post-fabrication, hot dip galvanized steel frames for optimal corrosion resistance
* PVC tensioned membranes, proven to last
* Foundation options and quick construction
* Always code compliant to the most recent standards
* Easily relocatable, extendable and movable
* Superior fire performance for improved safety and longevity
* Low maintenance and low energy costs
Discover why Rubb fabric storage buildings offer the perfect solution for breakbulk storage and cargo logistic operations. Stop by Stand 460 with Marketing Manager Michael Halpin and Storage specialist Stephnie Coyle to find out more.
Join the Rubb team at Breakbulk Europe 2018. Contact us for your 25% off offer code.
Location – Messe Bremen • Bremen, Germany
Date – 29-31 May 2018
Stand – Hall 4 Booth 460