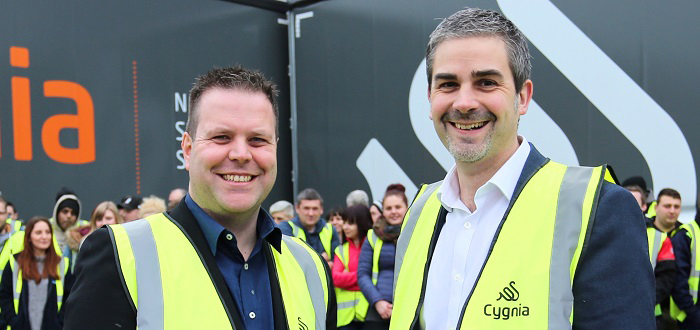 Dalepak, the third-party logistics business, has been rebranded as Cygnia Logistics.
Picture shows: Scott Merrick (Left) Chief Information Officer and Nick Frogbrook (Right) CEO.
Dalepak, the Northampton-based third-party logistics business, has been rebranded as Cygnia Logistics, reflecting the company's evolution to what it does today, delivering end-to-end fulfilment and packing services to a global audience, as well as its plans for the future.
Prompted by a change in ownership and the appointment of a new senior management team in 2016, the new name and identity denote what the business feels is core to what it does, and how a smooth- flowing supply chain delivers real value and competitive edge for its clients.
Chief Executive Nick Frogbrook said the new brand translates globally: "Our vision is to continue to invest in the business, both within the UK and beyond, expanding further our capability into Europe to become the leading mid-market provider in our industry."
"To recognise this vision for the business, we felt it was right to ensure our name and brand truly reflected this, but also to act as a catalyst for change as we continue to grow and evolve to meet our clients' changing needs."
Cygnia, the Latin word for 'Swan', is appropriate for the new brand for a number of reasons: as a sign of change and transformation to reflect the company's desire to continually evolve; to reflect the constant movement, agility and responsiveness that is key to the business; the ability to travel over water, on land, and in the air; and because swans partner for life, as an aspiration for the company's employee and client relationships. Fortuitously, the company's head office also happens to be based in the Swan Valley.
The creative idea behind the brand, and the series of flowing waves, is to reflect the continuous 'flow' of customer goods from their point of manufacture to Cygnia, through its warehouses and on to the end consumer. It also reflects the importance of the concept of 'flow' both operationally but also with regards data and communications, and is inherent in Cygnia's strapline 'never standing still'.
Originally named after the founder's grandson (Dale White) 25 years ago, the business has now grown to a c.£50 million turnover company employing more than 800 staff during peak times. It undertakes fulfilment across the full range of retail channels and provides services from warehousing, distribution, packing and freight-forwarding for a number of blue-chip companies in the automotive, cosmetics, home, gifting and other retail sectors.
Clients range from the Ford Motor Company to Molton Brown, Feelunique to Whittard of Chelsea. It has around 550,000 square feet of storage capacity across three locations in the East Midlands, processing more than 4.5 million orders every year.
Alongside the name and identity change, Nick says that the company has also taken the opportunity to re-affirm its vision and values: "We want to ensure that all our clients and staff understand not only what we do but how we do it, by setting out those behaviours and values which are at our heart," he explains.
"These include not only our agility and responsiveness, but also the depth of our experience and capability, and our open and 'human' approach to working with our clients.
"To this end, we have also launched QUEST, a pneumonic to unite our behaviours and which stands for quality, understanding, evolving, sustainability, and trust. We will be actively promoting QUEST to our employees, clients and other stakeholders in the coming months."
As to the future ambition, Nick is clear of the company's objectives: "We want to be recognised as the leading mid-market provider of fulfilment and value-added services across Europe, and believe this new brand and identity reflects that and will help us continue our journey."
Cygnia Logistics was recently recognised in a new league table that identifies the UK's top 200 mid-market private companies with the fastest-growing international sales, won the SHD magazine's Logistics Award for Growth, as well as having recently been listed in the LSE's 1,000 Companies to Inspire Britain along with other awards from the UK Warehousing Association (UKWA).