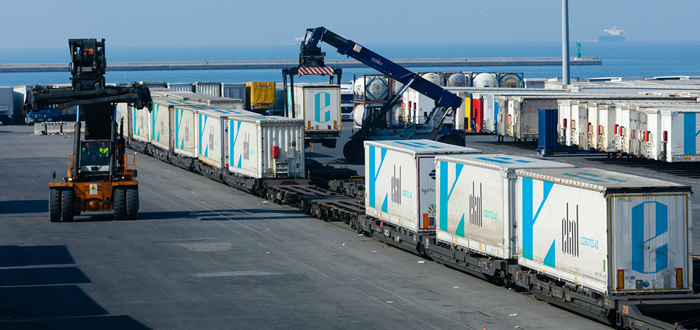 Davies Turner Remains Positive On Turkish Trade.
Davies Turner, the UK's largest independent freight forwarding company, remains positive about the trading outlook for Turkey despite the country's ongoing economic crisis and depreciating currency.
Company chairman, Philip Stephenson, says that the weakened Turkish lira and escalating tariff war between the US and Turkey might make life harder for British exporters but easier for our importers.
A so called trade war broke out in mid-August after President Donald Trump doubled US tariffs on imports of Turkish steel and aluminium, in turn precipitating a sharp fall in the value of the lira. If sustained, this would have the effect of making imported goods more expensive for Turkish consumers, but could make the country's exports to the UK and the rest of the world more competitive.
"If it becomes more difficult for not only UK, but European exporters to sell to Turkey, it could put a strain on the rotation of trailers between Turkey and the UK," added Stephenson. "Ideally for Davies Turner, balanced traffic flows in both directions are best, supplemented by collecting extra southbound freight from our partners in countries in the near-continent."
Davies Turner operates daily two-way overland and multimodal trailer services between the UK and Turkey with Turkish partner EKOL. Stephenson said so far this year it had been "business as usual and the company was sheltered from fluctuations of the Turkish lira because most of its large international Turkish-related freight and logistics contracts were in Euros or Sterling.
"We have some longer term concerns if the ongoing financial situation has a significant impact on future foreign investment within Turkey, but we still believe the country's strong export growth will continue despite the country's current economic difficulties."
Davies Turner meanwhile is in a strong position to offer its customers some of the best freight forwarding services to or from Turkey.
Its partner, EKOL, one of the country's largest freight and warehousing operators, recently became one of the few operators authorised to carry out export customs clearance at its own terminal, thanks also to its Authorised Economic Operator (AEO) status. This can avoid delays to Europe-bound cargo, as it avoids the need to send trucks for export clearance to the main customs office where there can often be lengthy queues at busy times.
EKOL is also an important transport operator in its own right, with an extensive network of ro-ro services maintained by its own vessels on routes to and from Turkey, with connecting chartered block train services within Europe.
Earlier this year it increased its ro-ro sailings between Izmir in Turkey and Mete in southern France to two per week, while at the same time adding a new rail service from Mete to Zeebrugge, Belgium, offering onward connections to the UK and Sweden. EKOL also operates ro-ro between Istanbul and Trieste in Italy, with connecting trains from there to Cologne and Zeebrugge, as well as train services from Sete to Paris and Battembourg.
As well as offering lower carbon emissions than road, the intermodal sea/rail services can be time-competitive with consistent transits of around 7-10 days. Road can better this under favourable circumstances, but truck journey times depend on the length of queues at Turkey's borders with the EU.
Between them, EKOL and Davies Turner move around 70-110 trailers a week between the UK and Turkey, mainly groupage, along with sea freight containers.
Value-added services include offshore end-to-end logistics operations, accepted quality level (AQL) and quality check (QC), as well as pick and pack operations, on location in Turkey all managed by Davies Turner in Istanbul.
The main commodities moved from Turkey to the UK are clothing and textiles, car parts and raw materials. Southbound from the UK to Turkey, goods moved include fabrics, chemicals and machinery, with volumes out of the UK topped up in mainland Europe if necessary.