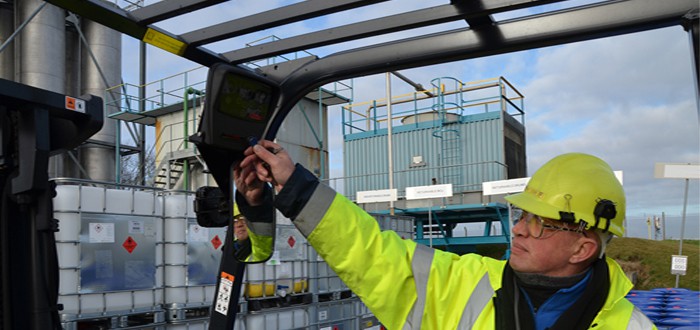 Demand grows for ATEX forklift safety audits.
Safety company Pyroban has reported a significant growth in the UK in 2016 for annual safety audits (Ex-ASAs) carried out on explosion protected lift trucks. The company says that users of "ATEX*" forklifts have driven demand, not the equipment dealers.
"Converting a forklift so that it is ATEX compliant ensures a truck has the safety of explosion protection at first use," says Darren Boiling, Group After Sales Manager for Pyroban. "Whether it remains safe depends on many factors."
Extreme wear and tear, late or incorrect maintenance and other factors such as high impact operations may compromise an explosion protection safety system over the life of the equipment.
"Following service schedules and using both trained engineers and the correct parts are essential steps to prevent a truck from becoming an ignition source during its lifetime," says Darren. "However, an inspection of the safety system by competent engineers every year is critical."
In many countries, legislation dictates that any type of forklift must undergo a Thorough Examination, an inspection that is focused on the lift truck itself. This is usually controlled and initiated by the forklift supplier as part of a contract.
"In 2016, Pyroban launched an initiative aimed at forklift users explaining the need for annual inspection of the explosion protection system fitted to an ATEX forklift truck," he says. "This should take place in addition to a Thorough Examination."
All Pyroban aftersales procedures are designed in accordance with EN60079-17 which states that an inspection routine should be introduced to ensure the continued safe operation of equipment. It is also a legal requirement for businesses to "demonstrate that work equipment is designed and maintained with due regard for safety" in accordance with ATEX 1999/92/EC.
As Darren Boiling commented at the start of the initiative in early 2016, "If a truck was used with no annual inspection it could become faulty, and in the eyes of the law, the employer could be failing to fulfil his duty of care."
Pyroban's Ex-ASA (Ex Annual Safety Audit) ensures that the integrity and safety of the materials handling equipment is not compromised during its working lifetime. The inspection can be carried out at any location by one of Pyroban's specialist engineers and works in unison with the service support offered by forklift truck suppliers.
All safety critical components of Pyroban's explosion protection system are inspected and recorded, including Exd enclosures, cables and glands, shutdown devices, conductivity and fork cladding. If no irregularities are found, the truck will be declared safe for use and a certificate will be issued to support the Explosion Protection Document (EPD). Irregularities need to be repaired immediately, followed by re-inspection.
Pyroban converts all types and brands of forklifts and delivers a growing number of inspections across varied industries, such as chemicals, pharmaceuticals, waste management, food and drink, general manufacturing and logistics.
For further information or to register for an EX-ASA, visit :www.pyroban.com or email [email protected] .