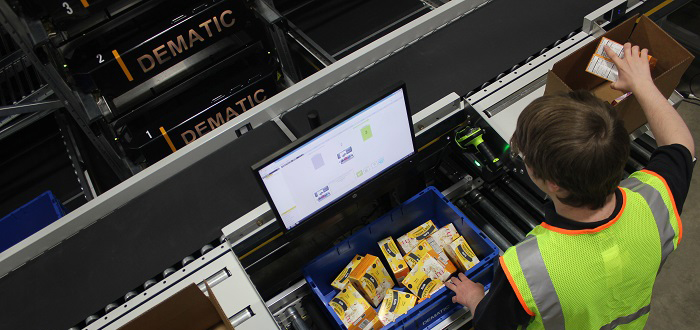 Dematic introduces portfolio of automated solutions for Omni-Channel Fulfillment.
Dematic, a leading global supplier of integrated automated technology, software and services to optimize the supply chain, today introduces a portfolio of automated solutions that make piece, case and pallet handling more efficient, productive and responsive to today's on-demand omni-channel distribution environment at MODEX 2018. The solution sets include: Dynamic Order Fulfillment, Robotic Warehouse Automation and Mobile Automation — all powered by Dematic iQ performance optimizing software.
Dynamic Order Fulfillment
The Dematic Order Fulfillment engine is an on-demand order assembly system powered by Dematic iQ. Dematic iQ manages orders, inventory, labor and automated equipment to orchestrate and optimize the order fulfillment process in a real-time manner. Dematic iQ advanced analytics dashboards, maintenance and other decision support tools that help users fine-tune their operation and minimize downtime will also be on display.
The Order Fulfillment inventory storage engine consists of a high density staging sub-system that is offered in three formats: Multishuttle, Miniload and the Dematic AutoStore solution. Dematic Order Fulfillment solutions can be configured with a wide variety of workstations and interface points:
Goods-to-Person: The ergonomic goods-to-person order picking workstation includes a graphical user interface for pick instructions, with a "pick-from inventory tote" and "put-to-order" configuration. Order accuracy is enhanced as an image of the item to be picked appears on the flat screen. Pick rates are dramatically increased reducing warehouse staff size and order processing time. The contents of an order are packed into a cardboard shipping container, bag, envelope or tote at the workstation.
Goods-to-Robot: The Robotic Piece Picking Module is at the heart of Dematic's Goods-to-Robot picking solution. It integrates advanced vision, imaging, software, and robotic arm and gripper technologies to eliminate costly picking labor. The solution rapidly scans and verifies the content of incoming containers, determines the orientation of each piece, and delicately grips, lifts and transfers each item to complete shipment.
Automatic Pick Face Replenishment: To increase inventory accuracy and eliminate the labor required for manual replenishment, the automated inventory storage sub-system (Multishuttle or Miniload) provides automated pick slot replenishment for side of aisle picking. Response time to refill an empty pick slot is reduced and the wide dedicated aisles for manual replenishment in the warehouse are omitted.
LED PickCart: The LED PickCart is an order assembly method for piece picking applications. LED Light displays and scan validation support high accuracy and labor productivity. It is designed around a process improvement that supports gains in worker productivity, ergonomics and order accuracy along with real-time control. Multiple orders are picked with one pass through the picking aisles. The PickCart is also available as a voice-directed solution.
Decanting: The decanting workstation provides put-away functionality for the storage sub-system. It acts as the inbound loading point and transitions the inventory from cartons of various sizes into totes. The decanting methodology is a process improvement that supports inventory accuracy, operational productivity, worker ergonomics and high density storage.
Pouch Sorter: The Pouch Sorter is a staging, sequencing and sorting solution for pieces (eaches) that optimizes the e-commerce and retail store order fulfillment process. The sorter system includes pouches suspended from rollers that travel in an overhead track and ergonomic workstations for item induct and order packing. The system uses otherwise empty ceiling space, dramatically reducing footprint. Each pouch carries a single item, either placed inside the pouch or hanging from an attached hook. Typical applications include order consolidation and returns processing.
Mobile Automation
Dematic is also featuring the latest innovations in mobile automation at MODEX 2018. The Dematic iGo Neo is the first dual-use automated guided vehicle (AGV) for manual and automated picking. It combines a traditional driver vehicle with AGV capabilities for efficient, ergonomic and economical mixed-case picking. With a press of a button, the iGo Neo goes into Follow Me mode and automatically shadows picking operators — at a safe distance — as they walk to each pick location. Also highlighted at MODEX is the Dematic Compact Tugger AGV. Designed from the ground up to be a smaller, lower-cost option to full-sized AGVs, the Compact Tugger is the right solution for efficient transport in tight spaces.