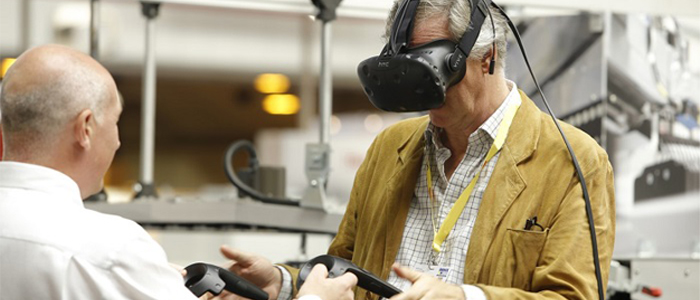 Dematic powers the future of commerce at Logistik & Transport 2019
Dematic – the leading supplier of integrated automated technology, software and services to optimise the supply chain – will be powering the future of commerce at Logistik & Transport 2019, the Nordic region's foremost exhibition and conference for logistics, 5 – 6th November 2019, Gothenburg, Sweden (Stand A03:63).
Visitors to the Dematic stand will be shown video highlights of some of the exciting new technologies that are transforming logistics operations, including intelligent iQ software, AI controlled robotic piece picking systems and automated micro-fulfillment solutions for urban environments. Those visiting the stand will also be able to try out Dematic's iQ virtual reality experience, stepping into a dynamic simulation of a distribution centre that digitally models the impact of operational changes – including Black Friday peak. What better way to see and prepare for the future.
"Digitalisation, robotics and intelligent technologies are transforming supply chains and their supporting logistic structures. To stay competitive, businesses across the Nordic region will need to move decisively to leverage the advantages that these new technologies offer," says Thorsten Hansen, Sales Director Nordics at Dematic. "We are in a strong position to help these companies meet the challenge and this is why we are focusing our attention on the Nordic region and expanding our team here to over 60 people, in order to support our growing customer base in the area."
Dematic has designed and implemented advanced solutions for some of the biggest grocery retailers in the Nordic region – such as Salling Group, COOP and Netto – and has recently won a contract to supply an automated collation and sequencing solution to Vectura AS, Norway's leading logistics company for alcoholic beverages.
As a global business, Dematic has implemented more than 6,000 integrated systems and has more than 7000 employees working in customer facilities, offices, engineering centres and manufacturing sites located around the world.
Dematic may be looking to the future, but its focus is firmly fixed on finding solutions to the daily challenges faced by logistics professionals: from gearing up productivity, reducing error rates and handling returns efficiently, to alleviating labour headaches, providing scalable solutions and future-proofing performance.
At Logistik & Transport 2019 Dematic will take the opportunity to engage with supply chain professionals on current and future challenges, to better understand the system needs of today and tomorrow.
Visit Dematic and see the future of intelligent logistics on stand A03:63. The future starts here.
For more information please visit www.dematic.com