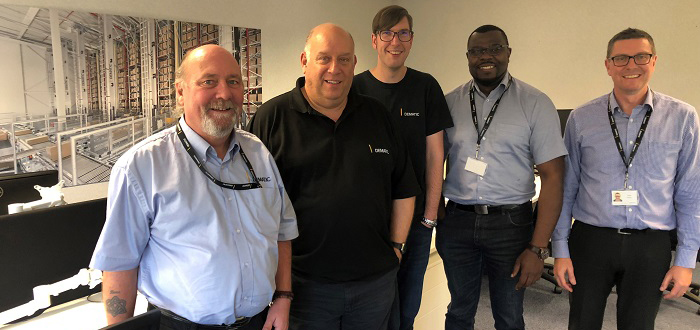 Dematic's MU Engineering Team moves to Wellingborough.
The Engineering Team that supports Dematic's Modernisation and Upgrades (MU) business has moved from Northampton to larger offices within the Kion Group at Linde's Wellingborough depot.
The move helps future-proof Dematic's MU division, which has experienced significant year-on-year growth over recent years with a continuous flow of engineering and systems upgrade projects for existing and new customers. The division's specialist team consists of design, controls and commissioning engineers. They are responsible for delivering cost-estimates for Dematic Northern Europe's MU sales operation and are engaged in the design and commissioning of projects that range from upgrading obsolete components to extending and enhancing complex automated facilities.
Brian Hendry, Senior Engineering Director, Dematic Northern Europe, says: "The move to the new larger offices in Wellingborough provides the space and facilities that the Engineering Team requires to support the future needs of Dematic's Modernisation and Upgrades business – and sharing a building with our sister company Linde, also part of Kion Group, shows how synergies can be realised."
He continues: "The new offices, located on the Finedon Road Industrial Estate in Wellingborough, allows us the space to expand, offering more desk space, high-spec meeting rooms, a workshop and storage facilities, along with break-out areas for the team. We're now in a stronger position to cater for the future needs of our customers."
More information on Dematic's Modernisation and Upgrades at www.dematic.com/en-gb/services/customer-services/modernisation-and-upgrades/