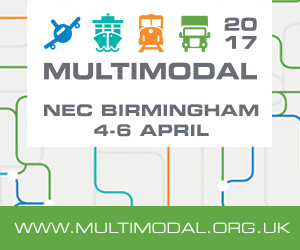 Smartanalysis reporting for earned recognition at Multimodal
Descartes Systems Group (Nasdaq: DSGX) (TSX:DSG), the global leader in uniting logistics-intensive businesses in commerce, has announced that the extensive reporting capabilities of Smartanalysis have been enhanced to accommodate the requirements DVSA set for transport operators to achieve Earned Recognition. Visitors to Multimodal 2017, taking place at the Birmingham NEC on 4-6 April 2017 will be able to get further information on stand 8040.
In 2016, the DVSA announced its Earned Recognition scheme to help road transport operators better manage their driver and vehicle compliance. With a pilot now imminent and open to interested operators who wish to achieve accredited status by Autumn 2017, now is the time for road transport operators to take a technology-led, proactive, and compliance-first approach to their fleet management operations.
By rewarding compliant operators with fewer checks in return for access to their compliance data, the Earned Recognition scheme will help the DVSA focus its resources on the seriously and serially non-compliant. Accredited and compliant operators will benefit by avoiding the expense and impact on their customers of delays from roadside checks. Two key aspects of compliance will include the management of both drivers' hours and of vehicle maintenance through smart technology solutions.
Descartes Smartanalysis is the industry's leading tachograph analysis and reporting Software as a Service solution for fleets of all sizes. With more than 100 standard reports, a number of which have been configured specifically to meet the DVSA's reporting requirements, transport operators will now be able to take advantage of in-depth tachograph and drivers' hours data to achieve Earned Recognition status. Managing compliance with electronic data makes sense, saving time and money and minimising the potential for human errors.
"Tachograph analysis and compliance management technology, such as Descartes' Smartanalysis, helps operators proactively manage their drivers and transport operation and take all reasonable steps to prevent drivers' hours infringements and breaches of complicated tachograph regulations," said Andrew Tavener, Head of Marketing, Descartes Systems UK. "From tracking drivers' hours to driving licence verification and ensuring pre-journey vehicle inspections are undertaken, transport managers need to look at all aspects that impact compliance. With automated alerts, reports and analysis, they can not only increase the efficacy and efficiency with which these issues are addressed, but can also demonstrate to the DVSA evidence of performance and actions taken to deal with areas of non-compliance – critical in achieving Earned Recognition status."
Descartes will be demonstrating Smartanalysis at Multimodal 2017, as part of its full suite of solutions for road transport operations. To learn more, visit Stand 8040.
www.descartes.com