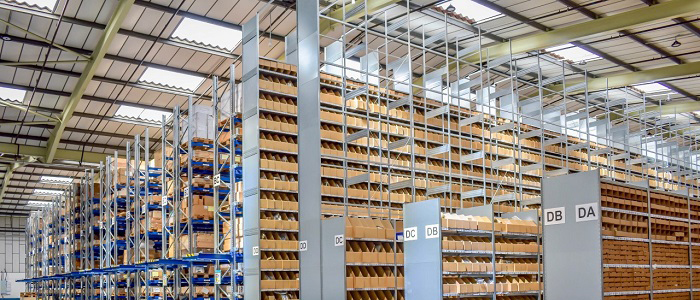 Electrolux productivity gains from BITO racking and shelving
Electrolux officially opened its new spare parts warehouse in Bowburn, County Durham in May 2019. Inside, BITO has installed a Very Narrow Aisle (VNA) racking and shelving solution, which gives Electrolux a vastly improved layout for more productive order picking compared to its previous facility.
Electrolux is a global leader in appliances for home and professional use, selling annually more than 40 million products – including refrigerators, dishwashers, washing machines, vacuum cleaners and cookers – to customers in 150 countries. The company supplies spare parts to service centres throughout the UK and supports B2C web sale traffic.
Located in the North East of England for nearly 50 years, Electrolux previously owned a plant in Newton Ayecliffe. After selling its outdoor products division to Husqvana in 2006, Electrolux kept its spares and accessories operation in the warehouse, where it also managed the spares and accessories for the Swedish manufacturer, which was now its landlord. In 2018, Husqvana needed all of the warehouse capacity, resulting in Electrolux seeking a new, smaller warehouse of its own. This would essentially halve the throughput from shipping 4000 order lines a day on average, to 2000 at the new operation.
With a big domestic service market and 24-hour delivery on all parts, Electrolux determined the best option to guarantee its mission of 'delivering as fast as possible, right first time', was to remain in the North East. A suitable 9150 square metre site was found in Bowburn's North Industrial estate.
When it came to fitting out the new warehouse with a storage and order picking solution for its 28,000 SKUs, Electrolux wanted to improve upon the layout it previously operated. Out of anumber of suppliers considered, BITO came out best in cost and product quality. "BITO took us to see some installed racking and I was very impressed," says Ross Turner, UK Spares Warehouse Manager at Electrolux Major Appliances. "With the amount of effort put in to the bid, the expertise and the CAD drawings allowing us to visualise clearly what was required, I felt that BITO could deliver and that was important to me."
He continues: "When we set out the racking with BITO, we looked to make the layout as efficient as possible and much more productive. We wanted to speed our process up with straight aisles to accommodate warehouse trucks and faster picks."
The warehouse is set out on the basis of frequency, with very narrow aisles for fast, medium and slow moving parts. These are served by a mix of vertical order picking trucks and stand-in tow tractors, which help speed the order picking compared to the old warehouse, which only used trolleys. In addition to 12,000 pallet positions, the new warehouse has 28,000 box spaces within BITO shelving. Getting the box storage, holding the fastest moving parts, right was crucial, so the Electrolux team visited BITO's Experience Centre in Nuneaton to get an idea of what the shelving would be like, as well as having the opportunity to look at other products.
BITO's scheme produced shelving with a single bay size and an 800 mm depth to hold a consolidated range of box sizes. The bigger boxes are 800mm deep but with smaller boxes being only 400 mm, this allows double-deep storage and, thus, picking from both sides of the shelving. Turner explains: "We came up with this efficient bay configuration at Nuneaton. We brought our box samples with us and examined the pick efficiency and bay configurations, which also led to taller shelving to get the quantity needed on the given footprint. We save an incredible amount of time with this layout."
Providing locations for large pallets is a further contributor to improved productivity. "At Newton Ayecliffe, these were single stacked on a mezzanine floor because we didn't have any racks big enough for them," says Turner. "So we requested racks that could accommodate special 1.2 x 1.2 m pallets. Another new thing we did was to have a bottom rail in the rack to lift the pallets off the floor. We also created rack locations with a higher first beam level to make it easy to store and pick bulky fridge doors."
The project has future-proofed the warehouse. Extra capacity can be made for any increase in business thanks to the incorporation of bracing across the top of the highest shelves to allow additional shelving.
BITO was also able to offer a solution to improve loading bay efficiency. While at the Experience Centre, Electrolux noticed BITO's range included an escape conveyor, so opted to add it to its loading bay operation. This allows boxes to be loaded directly into a delivery lorry rather than having to put them in trolleys. The result is a 50% space saving in vehicle capacity, leading Electrolux to consider a further efficiency by replacing its lorries with smaller vans.