In the first application for Hikrobot in the UK, global fashion brand, Superdry, is leveraging the flexibility of intelligent mini-robot carriers to transform order picking and put-away at its UK hub – just part of a phased roll-out of goods-to-person robotics that will boost productivity across its international network of multi-channel fulfilment centres.
Superdry is an iconic, global fashion brand operating through 768 store locations in 65 countries. Since its foundation in Cheltenham in 1985, the business has experienced phenomenal growth and in 2019 reported revenue of £871 million – a success story built on a reputation for providing distinctive, high-quality products that fuse vintage Americana and Japanese inspired graphics with a British style.
As an omni-channel retailer competing in the fast-moving fashion sector, maintaining high product availability, efficient fulfilment and the rapid processing of returns is essential for ensuring the best possible customer experience across multiple channels – retail, wholesale and ecommerce. Critically, all of these competitive differentiators depend upon the fast, accurate and efficient picking of products from across Superdry's extensive range of over 60,000 SKUs, held at the company's three regional distribution centres in the UK, Europe and USA.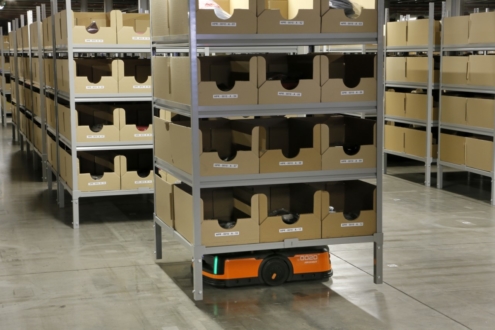 However, keeping pace with demand during peak periods can place a heavy burden on manual picking processes, especially when labour resources are tight – a challenge many businesses in retail face. To support future growth, Superdry's multi-channel distribution operations are being radically transformed through automation in order to boost capacity and productivity across its order picking processes, globally.
In a significant departure from the company's traditional approach to warehousing, where mainly manual processes have been used, Superdry has launched a major initiative to roll-out intelligent goods-to-person robotic systems across its international network of regional distribution centres. The robots work in unison with manual pickers, automatically selecting and lifting modular pick-walls and transporting them to pick-to-light stations where a predetermined pick-face is presented to the operative. Under the guidance of pick-to-light technology, items are manually selected scanned and placed for maximum speed and accuracy. Walk-time is eliminated, giving a design capability to offer up to 600 picks per hour, with 99.9% accuracy.
A successful pilot project for handling ecommerce returns was conducted in 2018, involving six autonomous Hikrobot carriers at the company's UK distribution centre in Burton-upon-Trent – a site operated by its logistics service provider, Clipper Logistics. The robots were trialled under the most testing conditions, beneath an 8,000 sq ft mezzanine area of the warehouse to see how they performed. Following the success of the project, Superdry went on in January 2020 to deploy a further fleet of 20 Hikrobot carriers to handle continental ecommerce returns at its European DC in Belgium run by Bleckmann Logistics.
In the UK, Superdry's ecommerce returns rate is around 25%, however, in Germany and other EU member states, that figure is far higher. Across Europe, including the UK, Superdry has 245 owned stores, 497 franchised and licensed stores, and 26 concessions.
Significant benefits have been realised through the introduction of robots. At the Burton-upon-Trent facility put-away of returns have dramatically risen from under 100 units per hour to rates of 300 – 350 per hour. Some 99% of returns can now be processed and re-dispatched within 24 hours, with many being re-dispatched within an hour. Present volumes allow for 180 picks an hour from mixed sku locations, double that of the previous manual operation, however, with higher volumes, single sku bins will enable picks of around 300 items per hour, or more when taking multiples from the same bin.
Other benefits from the robotic goods-to-person system include: increased accuracy, reduced cost per pick, no major infrastructure changes, enhanced flexibility and scalability, as well as greater storage density, which has reduced warehouse space requirements.
This spring, the Burton-upon-Trent site sees the installation of 40 more Hikrobot robots in an expansion of the existing goods-to-person system. The enlarged operation will handle the entire picking and put-away of womenswear for retail, ecommerce and wholesale. Over 80,000 sq ft of the warehouse is being set out with 1000 transportable pick-wall modules and the area is being equipped with a total of twelve pick-to-light stations. The site is also being prepared for the 46-unit strong robot fleet by positioning QR codes on the floor for the robots to follow.
The simplicity of the robot guidance system allows for fast and flexible layout changes and the inherent flexibility of this modular approach facilitates easy expansion of the system. Should more robots be needed to boost capacity, they can be simply added.
Menswear will follow later with an estimated requirement for 60 more robots and expectations are for the further deployment of Hikrobot carriers in Belgium and the USA, as the project progresses.
Gordon Knox, Director of Logistics at Superdry, explains the reasons behind the investment: "The adoption of robotics has come about through a requirement to cut operating costs and to reduce our reliance on labour. The headcount we needed to attract during peak periods was resulting in us having to adjust our pay structure beyond what we ideally wanted to pay."
He adds: "To increase outbound capacity, it wasn't just a matter of hiring 10 more pickers, it was a case of ramping up other activities, such as replenishment, to support those additional pickers."
Interestingly, the use of robots did not feature in Superdry's initial thinking when it came to the use of automation. A few years ago, faced with an issue of mounting returns from stores, the business considered investing in an automated storage and retrieval system. The project would have required a commitment to heavy equipment being bolted to the floor and so was not seen as being flexible enough for any future changes that may occur in the business. As it happens, it was the right decision – the business model changed and store returns were dramatically reduced.
"This was a wake-up call on the level of flexibility we required," says Gordon Knox. "So when it came to looking at using automation to speed-up the processing of ecommerce returns – making them available for sale again quickly – we looked at the huge flexibility robots could offer us in an automated goods-to-person system."
After a review of the robotic solutions available on the market, Superdry partnered with UK based warehouse solutions provider, Invar – supplier of Hikrobot systems in Europe. Hikrobot is part of one of China's largest technology companies, making a wide range of intelligent warehousing solutions centred on mobile robot systems. Invar Systems has decades of industry experience, developing and implementing warehouse management and control software that connects people with automation, and so was a natural fit for providing a full turnkey solution to Superdry.
Importantly, as Invar is based in the UK, and its software is developed and maintained locally, the company is able to respond quickly to any future system requirements – allowing for simple expansion of the solution by plugging-in hardware as needed, without any disruption to the operation. This phased introduction of technology, to match changing business needs, helps smooth Capex.
"The more we looked at the capability and flexibility of robotic systems the more we could see how they could be used within our operations," says Gordon Knox. "So we decided to test the concept. In the Autumn of 2018 we brought in six Hikrobot robots, which we viewed as having just about enough capacity to deal with our UK ecommerce returns – getting them back and ready for resale as quickly as possible.
"As the system involved putting stock away and picking at various velocities and volumes, it was a great test-bed for multiple applications of the system. We found that inventory accuracy was significantly improved and the tests far exceeded our expectations on throughput and productivity," he says.
"The installation of the Invar pick-to-light system and the setting up of the Hikrobot carriers to follow the QR codes all went really well," says Gordon Knox. "It has been a real partnership experience working with Invar and Hikrobot, and we've certainly benefited from learning about the full capabilities of the robots and the flexibility of the system."
He concludes: "The proof of the success of the relationship between Superdry, Invar and Hikrobot is that we have continued to expand the solution and have plans to further roll-out the system to our facility in the USA."