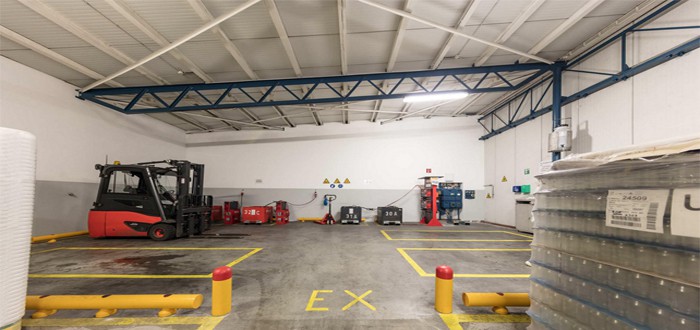 FELIX Austria reduces operating costs of forklift trucks with battery charging technology.
For years, the Austrian food and drink manufacturer FELIX Austria has been increasingly relying on battery-powered forklift trucks in its production logistics. Step by step the food specialist is replacing its forklift truck fleet with electrically powered trucks, with a constant focus on operating costs and energy efficiency. Battery charging technology from Fronius ensures optimum performance with minimum power consumption. FELIX is thoroughly impressed by the devices from the Austrian technology leader – but that wasn't the case to start with.
The brand FELIX is an Austrian classic. The company is renowned far beyond Austria's borders, above all as the clear market leader for ketchup, with a market share of around 60 percent. For more than 50 years, FELIX Austria GmbH has been one of Austria's best known food and drink manufacturers and boasts a diverse range of products, including sauces, mayonnaise, ready meals, soups, pickles, cereal, dried fruits, nuts and health foods. These are not only sold in Austria, but also in over 20 European countries and their customers come from both the food retailing and gastronomy industries. FELIX's 215 employees produce an annual turnover of around 70 million euros.
The largest production site by far is at the headquarters of FELIX Austria in Mattersburg. The majority of the almost 30,000 tonnes of products that the company distributes annually are produced here. FELIX focusses particularly on the quality of its products, which requires high-quality raw materials and modern production processes, in addition to seamless intralogistics. A fleet of 36 forklift trucks between goods in and goods out ensure that all raw materials, ingredients, packaging and end products are in the right place at the right time and in the right amounts. They work two shifts every day from Monday to Friday; demands on the availability of the forklift trucks are high.
Converting the fleet from gas to electric stackers
In the past, the forklift trucks at FELIX were predominantly powered by gas engines. Over time electric stackers were added individually and in 2014 it was decided to convert the entire fleet to battery powered ones. The food and drink manufacturer thinks and acts sustainably considering the long term. "The electric stackers fit with that image. And so does their performance," describes Technical Manager Lorenz Fasching. "The developments in the sector of electric forklift trucks impressed us. Before, the batteries could not fulfil our technical demands to the same standards as the gas engines, but today that's all changed." Nine battery-powered forklift trucks are already at work in the FELIX warehouses, with older models gradually being replaced.
To cope with the long driving times, the stackers are partly fitted with back-up batteries. As the expensive batteries are often in use and therefore come under a lot of strain, a reliable, efficient and gentle charging process was especially important for this application. When searching for a suitable provider, FELIX was recommended Fronius by the forklift truck manufacturer Linde. The Perfect Charging Division of the globally active company based in Pettenbach, Upper Austria, specialises in all matters relating to the charging of traction and starter batteries. However, initial contact was somewhat sobering. "When I first heard from Fronius what the prices of their battery charging systems are, I said 'There's no need to say more,'" remembers Lorenz Fasching. At first glance, the investment seemed simply too high in comparison with other suppliers.
Savings potential brings about a change of heart
However, this initial impression was quick to change, after Alexander Thier, Area Sales Manager for Fronius Perfect Charging, calculated the enormous savings potential on ongoing operating costs for those in charge of FELIX. "We often encounter scepticism at first," he recounts. "In quotes for electric forklift truck systems, the technology used is often not clear, so the differences in price between 50 Hz transformer technology, simple HF chargers and our technology can be daunting." It is often sensible for the user to also get to grips with the charging technology, as well as the forklift truck and the battery, as this has a considerable effect on the cost effectiveness and performance of the whole system. "The charging technology influences the service life of the traction battery, the cost of maintenance work, energy consumption and also how effective the user can be with their fleet," explains Thier.
With its Selectiva battery charging systems, Fronius has in its portfolio the most advanced technology for charging traction batteries in the world. Their innovative Ri charging process, which adapts to the effective inner resistance of the connected battery, allows for especially gentle and efficient charging depending on the age, temperature and state of charge. "Every charging process takes place according to an individual characteristic, which drastically lowers energy consumption and CO2 emissions whilst simultaneously extending the service life of the battery," says Alexander Thier, summarising the benefits. This is especially noticeable in the operating costs: energy bills fall and the expensive lead batteries need to be replaced less often. The purchase costs are thus paid off after only a short while.
Drastically lower ongoing costs
These arguments also convinced Lorenz Fasching. "For the gas-powered forklift trucks, monthly operating costs were over €200 per vehicle," he says. "For electric stackers they are more than 75 percent lower at €48 per month and the Fronius battery charging technology is a major factor in that." Maintenance is also an influential factor which has been dramatically reduced by the switch. Firstly, because the electric stackers generally require less maintenance and are therefore cheaper than those powered by gas, and secondly because the gentle charging process of the Fronius devices also reduces maintenance work on the batteries, such as filling up with water. "Not only does this save money, but we also have more time for our actual work," remarks Fasching.
Talking of time: a couple of FELIX's electric forklift trucks, that together with their batteries have already been in use for several years, were more and more often in the recent past unable to complete a whole shift. The batteries had little by little lost capacity and had to undergo opportunity charging – "a process that not only costs time, but also nerves," recalls Fasching. The Selectiva battery charging systems from Fronius have a special refresh characteristic for cases like this. It helps to improve the performance of deeply discharged and sulphated batteries. "Since we have been charging with Fronius technology, our employees can once again drive throughout their shifts without opportunity charging, even with older vehicles," enthuses the technical manager.
Repaid within eighteen months
Six Selectiva battery charging systems are now in use at FELIX, spread over one large and three small charging stations. Fronius also fitted these with protection and safety devices, so that employees can react quickly in the case of an accident. But nothing has ever happened, stresses Fasching. "The devices are so simple, convenient and safe to use; there's absolutely nothing to complain about." And the results are more than satisfactory. "The projections were right – the higher price of the electric stackers repaid itself in just eighteen months. The technology of the Fronius solution has impressed me just as much as the price was daunting at first," reports Lorenz Fasching. "I'm delighted with the excellent cooperation and am sure that we will rely on Fronius again in the future." www.fronius.com/intralogistics