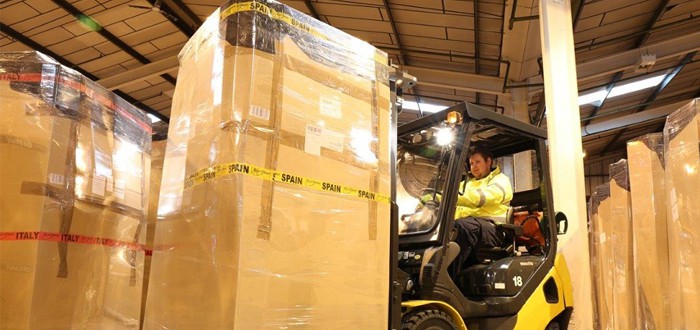 First class delivery for TPC.
A Derbyshire logistics facility has boosted productivity within its 24-hour domestic and international delivery operation, after signing a long-term agreement with the local branch of an independent materials handling firm.
Providing operational excellence for delivery services Citipost Mail and 13ten, The Processing Centre (TPC) handles the sortation, routing and distribution of over 20 million items per year, for delivery to customers in the UK as well as overseas.
Bustling with activity throughout its entire 24-hour operation, the Derbyshire-based facility relies on high quality materials handling equipment to keep up with the fast pace, ensuring deliveries of mail, catalogues, coupons, packets, and parcels are fulfilled accurately and punctually.
To assist with their forklift needs, TPC called on the local branch of Windsor Materials Handling. Just 15 months after the first delivery, the centre has now added four more brand new LPG Komatsu forklift trucks to their existing fleet, and signed a long-term agreement with Windsor.
Equipped with extra features such as weather protection and tyre-saving direction select inhibitors, the trucks have been well-received, and TPC Facilities Manager Ken Garford was particularly impressed. "Running a 24-hour operation, forklift activity is at its highest between midnight and early morning when shipments come in, so we needed robust trucks and a solid service to match," he said. "By renewing with Windsor, we get the best of both worlds – good quality trucks, supported by a top-notch team."
One of the leading independent materials handling suppliers in the UK, Windsor was founded on service in 1977. Since then the Windsor name has been synonymous with materials handling and access systems, and throughout its 40 years of operation, the business has built a strong reputation in personal customer support.
Ken agrees: "We shopped around several places before deciding to renew with Windsor. A supplier that can deliver a great value high-quality product as well as brilliant service is hard to come by, but Windsor came out on top in both aspects – exactly what our busy warehouse needed."
For TPC, the busiest period takes place during October, November and early December, as much of their stock needs to be ready to be shipped to European countries in advance, in order to reach customers in time for Christmas.
The year 2017 has seen TPC invest significantly in improving their warehouse processes, and an automated security solution was recently installed at the South Normanton facility. The business is now actively looking for new partners for sorting and processing opportunities.
Bob Powner, managing director at The Processing Centre, said: "It is important for us to ensure our customers receive the best possible levels of service at the most competitive rates. We are therefore very pleased to sign a long-term agreement to continue our partnership with Windsor Materials Handling, who have delivered on their promise of providing high quality forklift trucks at reasonable prices. This commitment is just part of a wider transition within The Processing Centre business."
Throughout the years, the Windsor business has evolved to support the growing needs of modern logistics operations. Priding themselves on having the most highly skilled and well experienced staff in both technical support and sales, Windsor engineers are manufacturer trained and have developed a deep understanding of all manner of lifting and materials handling equipment.
Andy Lane, Windsor's Nottingham Branch Manager, agrees the partnership with TPC reflects Windsor's passion in enabling their customers to succeed. "At Windsor, we maintain a philosophy of continual investment to ensure our strong reputation for personal customer support is maintained. Our business is partnership driven and we work hard to develop long lasting relationships that make the difference to our valued partners," he said. "I'm delighted we are putting this method into practice with our work at TPC, and I'm looking forward to a long and successful business relationship."