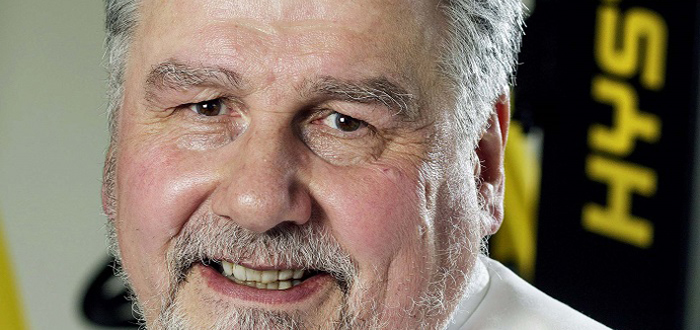 Forty Years of Forklifts: Q&A with David Rowell.
Following retirement from his most recent role as Senior Product Marketing Manager for Hyster UK earlier this year, David Rowell reflects on some of the developments he has witnessed over 44 years in the materials handling industry, and shares his thoughts about the future.
Q: What was the industry like when you first started working with Hyster?
A: This was in 1972 and I was surprised to find an American owned multi-national company manufacturing forklift trucks only 10 miles from my home in Scotland. I was employed as a Junior Sales Coordinator, supporting dealers from Canada to South Africa. In the 70's we introduced a new line of electric forklifts and for me this was the start of an exciting career that would last over 40 years. If you had suggested this to me back then I would have called you crazy – but I stayed working for Hyster because they were an enlightened employer. They were developing exciting new products for customers in heavy industrial applications.
Across the industry, mass markets were developing and Hyster was meeting this challenge. The design philosophy evolved to provide quality equipment at an affordable price, and this was firmly behind the development of both the Hyster® XL series and the electric forklift truck range.
Q: What key innovations came with the launch of the UK manufacturing operation in Craigavon?
A: We had changed our design philosophy, as well as manufacturing and distribution methods. Initially dedicated to the production of internal combustion engine (ICE) trucks, the operation in Craigavon, Northern Ireland, opened in 1981. The well-known Hyster® H40-60 XL (2-3 tonnes capacity) forklift truck was the first product manufactured there.
At the time, it was a popular truck aimed at companies in food and drink manufacturing and distribution. It set the standard for quality, robustness and functionality. It fast became a popular export truck, with around 3,000 H40-60 XL trucks made in approximately the first 20 months of production.
This began the "XL" era, and Hyster soon started to build other models at the factory including options with cushion tyres and pneumatic tyres, featuring power steering and fully automatic transmission as standard. Ease of control, especially for inexperienced drivers, was of high priority in the design.
It wasn't until 2009 that Craigavon became a mixed plant for manufacturing both ICE and battery products, with a major change to the layout of the plant to accommodate production of both lines. Today, there are over a dozen different types of 2.5 tonne Hyster® counterbalance trucks rolling off the Craigavon production line.
Q: How has the electric truck market changed over the last four decades?
A: The first range of Hyster® electric forklift trucks was launched in the 1970s. Numerous developments followed over the years, including the release of the XL electric series in the 1980s.
Perhaps the most significant change, was when we introduced the XN and XNT series of electric forklifts in 2008. These trucks continued the company's strategy of modular design and innovation offering customers outstanding performance and significant savings on operational costs. They also cemented Hyster as a world-class provider of low energy consumption trucks, with reduced maintenance requirements, minimised operating costs and zero emissions.
Today, a varied range of Hyster® electric trucks is available, with powerful, robust and high capacity trucks, alongside small, three-wheel electric forklifts which are among the most energy efficient in their class.
Q: Would you agree that the industry seems less product driven? How did this evolution come about?
A: In the 1990s, the focus for Hyster® trucks shifted to benefits for the operator. Because operator comfort has an impact on productivity, efficiency, and morale, ergonomic design was given greater importance. With the XM product, Hyster set a new ergonomic standard. Better seating, lower noise levels and new ergonomically designed operator controls were prominent design features.
This was the start of the company's solutions-based approach, that focused on solutions to meet the real needs of the customer, rather than just the product.
Q: What other focuses have changed in the market?
A: Energy efficiency, economy and reducing emissions have become a higher priority across the industry in recent years, with updated legislation for emissions and a greater consideration of environmental impact. In the 1990s, the XM design took these important points into consideration. Featuring the Perkins diesel engine, it offered high power with lower fuel consumption and greater efficiency, which also helped to reduce operating costs.
Q: What changes did the new millennium bring about within the industry?
A: In the new millennium, Hyster began working more closely with dealers to offer more choices to customers with application-focused solutions. Modular product designs had helped to speed up production, whilst maintaining consistent quality, as well as offering various configurations, which further enhanced the available options to suit customer needs.
In 2005 the Hyster® Fortens® FT series was brought on to the production line. This has been the premium brand for the last decade, offering a wide range of choices to customers. This range of ICE trucks provides a premium option to suit any application, with everything from the compact H1.6-2.0FTS to the H4.0 -5.5FT being produced at the Craigavon plant for customers in Europe.
The Fortens® range also offers excellent customisation options. Configurations are available to match specific application needs, including those with attachment usage in the paper, manufacturing, recycling, beverage, metals or construction industry.
Q: How would you summarise the key focuses for Hyster in the current market?
A: I think one of the most important changes over the years is the focus on the application. Hyster has developed a clear understanding of how the choice of forklift can significantly affect the overall performance and cost of an operation.
The tasks performed by the trucks and the application itself drives the customer's product choice, so Hyster is giving customers application-centric, tailor-made solutions. This helps to overcome specific daily challenges while suiting all of the different aspects of an operation – cost, fuel efficiency, low emissions, and productivity over time. The focus is very much on what can be done for the individual customer.
One of the last Hyster projects I was involved with was helping to bring the new Hyster® XT forklift truck to market in 2016. The XT is a new cost-effective product that sets a new standard. It still offers class-leading features, some shared with the Fortens® range, using proven engines and transmissions to deliver the right performance that meets the requirements of the majority of users, based on their application needs.
Hyster® forklifts are built for all types of operations, from high intensity at full capacity to standard, everyday use. Often the trucks look similar, but it is what is going on inside that really counts. Continual development is key to the Hyster® product offering. The company is enhancing its already wide range of products and I look forward to seeing where it will go from this point.
Q: Any final thoughts you'd like to share?
A: I enjoyed my 44 years working within this industry immensely and it was great to work with Hyster, a company which is collaborating with customers in meaningful ways to this day.
About David Rowell
David Rowell joined Hyster in October 1972 and worked with the company for 44 years. His roles included Product Sales and Marketing, Sales and Distribution Manager and Operations. David also served 4 years as president of the British Industrial Truck Association (BITA), where he played an active part in shaping the industry over the last 20 years.
Marking his career of more than 40 years with Hyster, David received a lifetime achievement award at the 2017 FLTA (Fork Lift Truck Association) Awards in March 2017.
www.hyster.eu