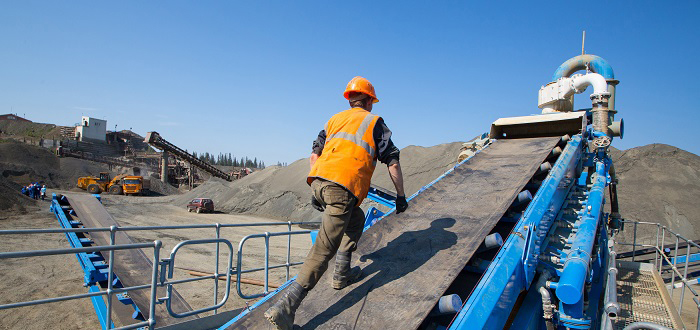 Global glass bottle manufacturer implements digital radios with lone worker and man down functions.
Worker safety at Scottish site improved through advanced digital technology
Automated communications specialist, ANT Telecom, announces it is working further with global sustainable glass manufacturer, to help improve worker communication and eliminate signal outages at its site in Scotland.
Prior to working with ANT Telecom, the quarry team were using analogue radios, and whilst the quality of the radios used was high, lasting over 15 years, workers were experiencing a number of coverage black spots across the site. As a result, the business recognised that there was a growing need to move to more signal-dependable digital radios. Having successfully trialled Hytera PD785 radios, the team contacted ANT Telecom following a recommendation from another of its sites, that has built a long-standing relationship with ANT Telecom as it updates its lone worker solution and helps to improve the health and safety of its employees.
One of the main concerns for both the business and on site workers was the lack of signal when working deep down in the quarry. This represented a substantial health and safety risk for  operators working alone, especially if there had  been an emergency and employees were uncontactable. Another obstacle arose with the time and effort needed to contact workers in areas of poor signal, leading to employees having to physically travel to where the worker was in order to reach them, adding a significant amount of down time.
As a result of working with ANT Telecom, the global glass manufacturer is now able to give peace of mind to its workers, safe in the knowledge that they have 24 digital radios with both Lone Worker and Man Down functions, with tilt sensors, that are usable throughout the entire 629 acre site. If an accident or emergency does occur, an alarm is raised and sent to all other radio users on site and colleagues are able to react accordingly without complications incurred through having a lack of signal. Additionally, in terms of an operational standpoint, the radios give workers the option to have group conversations or talk to colleagues on a one to one basis, with any missed calls being clearly visible on the device.
A spokesperson for the manufacturing company commented "With technology advancing, we believe that investing in the latest technology and having robust devices on site will benefit the business and our employees both now and in the years ahead. For us, good communication is key from both a health and safety point of view but also from an operational one. We've been impressed with the range and distance the radios work in and knowing that our operators based in the quarry are now contactable by our engineers at all times and our downtime has been reduced, proves to us that we made the right decision to upgrade to digital radios.
"With our old analogue radios, we didn't have any man down or lone worker features and relied heavily on colleagues checking in on each other every hour. We're pleased that our team has confidence in the new technology and are safe in the knowledge that if anything was to happen, an alarm will be raised immediately. We also now have the additional setting of workers being reminded to press the keypad every 30 minutes. If they don't and are not responding to any radio calls,  colleagues come out to look for them.
"ANT Telecom has been great with taking time to bring our operators and engineers up to speed with how the radios work and all the functions they can activate. The feedback from everyone has been really positive."
Klaus Allion, Managing Director at ANT Telecom adds, "The organisation continues to review its health and safety responsibilities to its workforce and is taking important steps to enhance the processes it has in place to protect them. Not only is it upgrading technology across its sites, it has ensuring workers are aware of the risks they can face and how any issues are escalated once an alarm is raised. We've worked on a consultancy basis with the manufacturer now for a number of years and understand the different challenges each part of the business have so we've made sure each site has the right technology for the specific work they carry out."