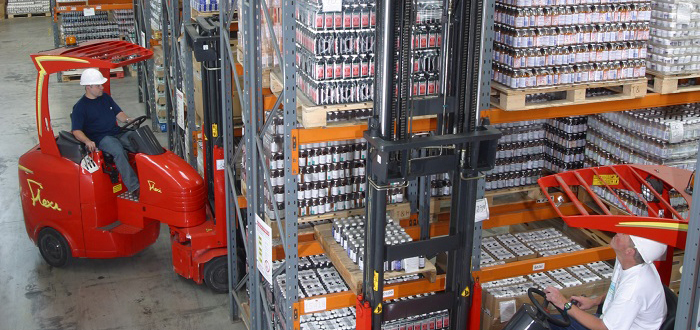 Great Bear choose Flexi fleet.
Leading third party logistics specialist, Great Bear, has introduced a new fleet of Narrow Aisle Ltd's Flexi HiMAX articulated forklift trucks at its major multi-user hub at Brackmills in Northampton.
A total of six Flexi HiMAX models will operate around-the-clock at the facility while a seventh 'sub-core' truck has also been supplied on a Service Level Agreement low-hours contract to be used as a 'stand-by' truck to cover seasonal peaks in demand and to ensure Great Bear has the ability to operate at 100 per cent fleet availability all-year round.
The Flexi HiMAX can operate in aisleways as narrow as 2000mm and its design allows pallet loads to be stacked up to 12 metres high at Great Bear's Brackmills site.
Pallet throughput cycles of 30 per hour are being achieved within the facility's 70 metre long aisles – which compares very favourably with either guided man-up or traditional reach type trucks.
In addition, Narrow Aisle Ltd has supplied its newly launched Easi-Change battery changing and management system at the Brackmills hub. Great Bear's battery charging bay was completely reconfigured by Narrow Aisle and now just 14 batteries are required to deliver optimal Flexi fleet efficiency 24/7. This means that not only have battery numbers been reduced by 20 per cent but, significantly, overall electricity consumption within the charge room has been cut by 50 per cent.
The Easi-Change system combines the latest battery charging technology with established materials handling techniques. The six-hour high frequency, low energy and low maintenance chargers are all linked to provide fully charged batteries on demand, thereby ensuring that the electric-powered Flexi articulated truck fleet requires the fewest number of battery units to operate at maximum efficiency. Furthermore, because the battery changing process is carried out by just one worker in less than five minutes, truck downtime is minimised
Great Bear has acquired the trucks on a five-year inclusive contract rental package that includes all planned maintenance, safety inspections and repairs in one fixed monthly rental charge.