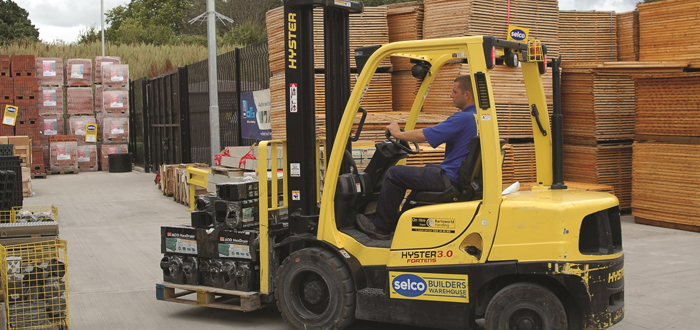 Handling The Tough Wood Supply Chain.
As handling requirements in the wood production and processing industry become ever more varied, the right equipment and attachments are vital for efficient operations throughout the supply chain. Hyster Europe explains, as it prepares to show varied solutions for wood handling applications at the International Wood Fair in Austria.
"Handling wood is not just about moving planks around the saw mill. Nowadays, when we think about wood applications, this can cover everything from machined wood to roofing materials, and fibre board to OSB," says David Reeve, Industry Solutions Manager for Hyster Europe. "This adds complexity to handling operations, as each of these product types presents different challenges as it moves throughout the supply chain."
"Furthermore, the processing and production of many of these products is actually the result of a long cycle of handling," says David. "Consider the journey of a laminate floorboard, for example."
First, it gets reel.
As re-sourced fibre, wood and paper pulp are combined to produce a flat product which is transferred onto large reels, just like a roll of paper, this presents unique handling challenges. At this early stage, selecting the right lift truck and attachment is vital. It's not just enough to select a truck that can, in theory, handle the weight of the load. For handling reels, trucks need to use specialist roll clamps, so the weight of the attachment must also be considered. Reels may vary in weight depending on the make-up and density of the product.
The size and density of the reel will also dictate the choice of clamp. The clamp must deliver enough force to lift the reel, but without a level of pressure that will damage the product.
"To ensure applications select the right option on Hyster® trucks, we typically work directly with customers, alongside our sister-company Bolzoni S.p.A., to set the correct pressure for the particular reel of product," says David "This is crucial for avoiding damage that may occur when transporting reels to and from the warehouse."
To further support damage avoidance, camera solutions that enable the driver to see the bottom of the reel from inside the cab can also be implemented. Due to their large size, reels tend to reduce forward visibility. Despite this, with camera assistance, drivers can often place the reel down more accurately to avoid damage and encourage productivity.
Into production
Using the correct clamp attachment, reels can be efficiently transported from the warehouse to the production line where product can be printed to resemble natural wood. However, as the sheets coming off the production line must then be plasticised with chemicals to achieve the right finish, there are additional considerations for trucks in the vicinity.
For example, due to the vapours produced by chemicals being used to laminate the wood, and the dust present in the atmosphere, parts of the production line may be zoned areas. For example, Zone 1 or 2 for gases, Zone 21 or 22 for dusts, or a combination of gas and dust.
Any materials handling equipment used in zoned areas needs to be ATEX 2014/34/EU compliant to legally work in these areas. So, for instance, any forklift truck working within the zoned area would need to be specially converted. Hyster works with explosion protection specialists to convert trucks in accordance with ATEX requirements.
Palletised handling
When sheets, or machined floorboards, of laminate are complete, they are batched and packaged on the production line, ready for onward distribution. However, as these sheets can be over 2 metres long, this makes the load two pallets wide.
"At this stage, we typically see customers overcoming this challenge by using tough 8-9-tonne Hyster® lift trucks with a double pallet handling attachment, enabling handling of 6-tonne loads of laminate," David explains.
He continues "The end location for the packaged laminate will tend to be either a warehouse or a DIY store. Again, these applications have to consider the right truck and attachments for productive handling."
Getting to grips with fibre board
The processes for production of fibre board, OSB and chipboard have many similarities to laminate production, so applications will encounter many similar handling requirements to those already described. However, handling of bundles of panels coming off the production line may call for a different type of attachment – a grabbing adapter. Fibre panels can be especially heavy and large, so this attachment enables more efficient, stable handling than attempting to manage these loads on a pallet.
"This shows the importance of matching the particular type of load with a suitably robust truck and attachment to avoid damage," David says "In this example, where much of the product will go on to be made into furniture, damage reduction is essential for keeping overheads down and customers happy."
Common ground
Despite there being many different types of applications handling wood, there are some common challenges within the supply chain. For example, in many different applications, from timber yards to saw mills, and finished wood processing operations, sites may have unpaved, uneven ground. When transporting long, heavy loads, such as planks of wood or laminate, this can cause "load bouncing", or instability.
The mast design on strong Hyster® lift trucks is an important feature for bumpy sites when using an attachment such as a multi-pallet handler or grabbing adapter.
The robust frame offers 'rock solid' stability and long-term durability when handling loads at full capacity.
Done and dusted
Another frequent issue is dust, dirt and debris. A common by-product of wood handling, dust can clog up forklift truck radiators and result in the truck engine overheating. This can lead to frustrating downtime, while also costing businesses money in lost production.
To overcome this, the Hyster® Cool Truck has been developed with a range specifically suited for difficult wood handling environments, for loads up to 5.5-tonnes. The trucks, which are based on the Hyster® H2.0-3.5FT and H4.0-5.5FT ranges, include fully enclosed frames and vented hoods, side panels and radiator covers to reduce the vacuuming of dirt and debris from the floor into the engine compartment.
Unwanted dust collected whilst sucking air in is blown out periodically by a reversing fan. This keeps the truck running longer, minimises radiator cleanouts and helps the truck to stay cool even in high ambient operating temperatures. There is a solid belly pan under the engine compartment, heat resistant protection over the turbo, and a high air intake with pre-cleaner.
Tough electrics
To reduce risks around dust, some wood applications opt to use electric lift trucks. To help meet the needs of the wood industry for a higher capacity electric lift truck, Hyster has developed an 8-tonne electric forklift – the J8.0XN – which is powered by lithium-ion battery.
The J8.0XN electric forklift can achieve 100% charge in just two hours, and provides similar performance to the Hyster® LPG equivalent in most normal timber applications, providing businesses with a durable solution with the added benefits of zero emissions and quieter operation.
The innovative lithium-ion battery powered J8.0XN forklift will be on show at Holzmesse – the International Wood Fair – in Klagenfurt, Austria from 29th August to 1st September. Experts from Hyster Europe will be at stand A07 and A08 to provide information on the wide range of Hyster® solutions to support the wood industry.
"Regardless of where the operation sits within the supply chain, wood handling can be demanding," says David. "However, by choosing the right trucks and attachments to meet specific needs, wood applications can reduce damage, increase efficiency and achieve a low total cost of ownership."
For more information on solutions for timber and finished wood handling applications, visit www.hyster.eu.
For more information on the International Wood Fair, visit https://www.kaerntnermessen.at/en/fairs/international-wood-fair.html .