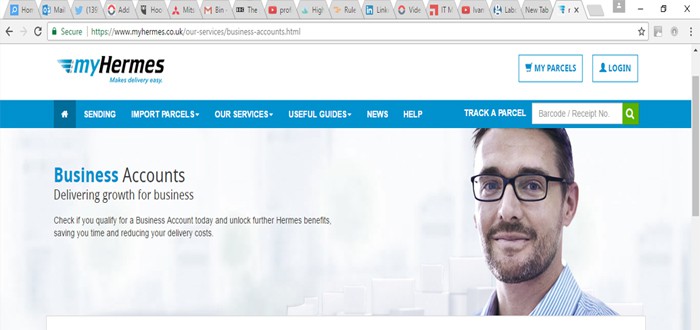 Hermes helps SME's take advantage of growth in overseas online shoppers.
UK-based sole traders and SME retailers have been granted improved access to consumers based in 23 European countries thanks to a new cost-effective international shipping solution from Hermes, the consumer delivery specialist.
The company's Business Account customers will now be able to take advantage of the new opportunities being driven by the weak pound, as overseas customers continue to order from British websites to receive better value for money.
SME retailers that have a Hermes Business Account can now conveniently send their products to international online shoppers based in 23 countries across Europe, with deliveries to Australia, China and the US also set to follow next month. Hermes will utilise its own European fleet for deliveries to Germany, Austria, Italy, France, Belgium, Luxembourg, Spain and Portugal, providing a number of final mile options, including access to over 36,000 ParcelShops. This will be supported by partnerships with trusted third-party suppliers.
Whilst Hermes delivers parcels on behalf of 80% of the UK's top retailers and etailers through its Corporate Accounts, the company also processes more than 10 million parcels a year for its Business Account clients, those smaller retailers and etailers who send more than 150 parcels a week. This includes businesses working within a variety of sectors, such as clothing and fashion, sports equipment, camping accessories and homeware.
There are now more than 680 Business Account holders that receive a variety of benefits including access to a free van collection service and a flexible pricing plan, where the retailer receives discounted rates for the more parcels they send. In addition, businesses are assigned their own account manager whilst also receiving access to a customer service team.
Those retailers will now be able to economically send parcels directly to consumers living in major European countries, including Belgium, France, Germany, Italy and Spain, as well as Cyprus, Malta and Slovenia. Business Account holders will be able to simply hand over the packages destined for overseas destinations, or as part of their standard van collection service. All deliveries will also be fully tracked online.
Mike Antwoon, Sales Director at Hermes, said: "The depreciation of the pound triggered from last year's Brexit vote has led to a large growth in the number of overseas consumers visiting British websites in order to find a bargain. As a result, we have recorded a 15 per cent year-on-year jump in the number of parcels we deliver to addresses abroad. By further enhancing our Business Account solution, we can help sole traders, independent retailers and Internet power sellers to take advantage of this opportunity, driving increased sales and encouraging growth."
The full list of countries currently includes: Austria, Belgium, Bulgaria, Croatia, Cyprus, Czech Republic, Denmark, Finland, France, Germany, Greece, Hungary, Italy, Luxembourg, Malta, Netherlands, Portugal, Republic of Ireland, Romania, Slovakia, Slovenia, Spain, Sweden. To be added shortly: Australia, China, USA. www.myhermes.co.uk