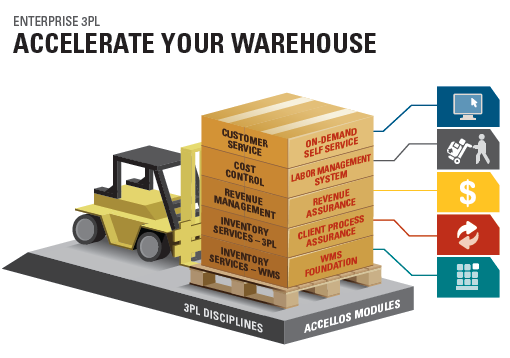 Highjump becomes solution of choice for Canadian 3PL.
HighJump, a global provider of supply chain network solutions, and Nova Cold Logistics (NCL), a leading frozen and refrigerated logistics services company, today announced that NCL is now tapping into the full potential of the cloud with HighJump's 3PL WMS solution. Upon upgrading to the latest version of HighJump's' solution, NCL has streamlined the workflows amongst its five dispersed locations, resulting in increased productivity and enhanced quality of service for its customers.
Canada-based Nova Cold Logistics, formerly Brookfield Cold Storage, operates some 19 million cubic feet of temperature controlled storage space in five facilities. This includes one in Calgary, one in Brampton and three in Halifax. The company serves more than sixty diverse customers specializing in frozen and refrigerated foods that range from dairy, meat, poultry, fruit, vegetables, baked/packaged goods and a wide variety of seafood.
"NCL's customers' and consignees' requirements vary widely," said Ken MacLean, president of NCL. "We needed a solution flexible enough to handle specialized requests at varied levels and stages of the supply chain at each of our locations. HighJump's cloud-based 3PL WMS solution fit the bill. We reduced transaction time and expedite orders – drastically improving service levels."
HighJump's fully managed cloud solution simplifies each step of the supply chain while assuring world-class levels of service through unrivaled system uptime, response time and security. Furthermore, it enabled NCL to up employee productivity, each facility's throughput and overall customer satisfaction. NCL has also achieved and maintained exceptional levels of performance in order fulfillment and inventory accuracy. As a result, NCL has built a strong base of customer advocates that are proactively referring the company to others, enabling NCL to reach its growth objectives.
"HighJump was designed by 3PL experts for 3PL professionals," said Joe Couto, chief operating officer of HighJump. "The success of NCL is a testament to this, with our solution offering the customization and flexibility NCL needs to quickly and cost-effectively onboard new customers and consistently meet their unique requirements and expectations, all while making changes to each facility's warehouse floor as necessary."
HighJump's comprehensive and modular 3PL WMS solution encompasses all of the management activities of a multi-client warehousing operation. This is done by incorporating concurrent workflow processes, customer on-demand self-service, labor planning and automation and revenue/profitability management. www.highjump.com