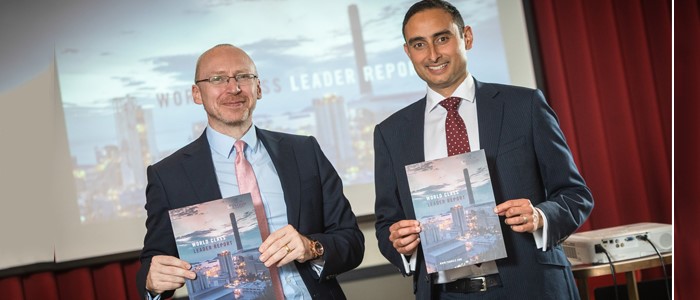 HOW TO MANUFACTURE A WORLD CLASS LEADER
An innovative and thought-provoking new research report revealing what makes a great leader in the industrial and manufacturing sectors, is now available to download for free.
The 'World Class Leader Report' has been produced by executive search and recruitment specialist TS Grale. It offers in-depth interviews with more than 20 board level executives and directors across private, listed and private equity backed businesses, with turnovers ranging from less than £20m to more than £1bn.
The research highlights the traits that many great leaders, as well as successful businesses, share. It also answers a wide range of key questions relating to leadership. These include:-
How critical are the younger generation to the manufacturing and industrial sectors and how valuable are their technical skills?
Why should current leaders pay attention to their younger colleagues?
What specific skills do women bring to leadership roles and is business better for having different viewpoints round the table?
How well are leaders embracing technology?
Do people want leadership roles as much as they used to?
What key traits will leaders of the future need?
Do great leaders know it all, or are they hungry to keep learning?
What makes a world class leader?
Jason Saunders, co-founder and director at TS Grale, said: "Talk to anyone in business and it won't be long before someone comments on the pace of change – whether it's political, technological or people's changing expectations of work. However, the big question we wanted to ask, was whether the old models of leadership skills and roles are fit for purpose in this ever-changing world, or do we need a new type of leader for the future?
"We've asked a wide range of business leaders what they think and the results are fascinating and provocative, in equal measure. We're now delighted to be able to share this report with other companies working in the industrial and manufacturing sectors."
Finally, Jason added: "The results give us a very clear set of qualities that make a great leader. We're now looking at how we can incorporate this research and identify the qualities highlighted, during our selection processes, in order to help develop world class leaders of the future."
TS Grale provides executive search and recruitment services across the industrial, manufacturing, and engineered products sectors, as well as working in construction, the built environment and consumer sectors including food and drink, packaging and non-food FMCG. From its offices in Leeds city centre, TS Grale has attracted a global client base spanning the UK, Germany, Denmark, Sweden, Russia, USA and Canada.
The firm has recently secured retained contracts with several North American companies, which will see it identify and assess talent for senior sales and infrastructure roles. In addition, TS Grale has recently won projects with tier-one automotive and aerospace suppliers to identify Managing Directors for UK and European subsidiary businesses.
The 'World Class Leader Report' can be downloaded from TS Grale's website at https://tsgrale.com/leader-report