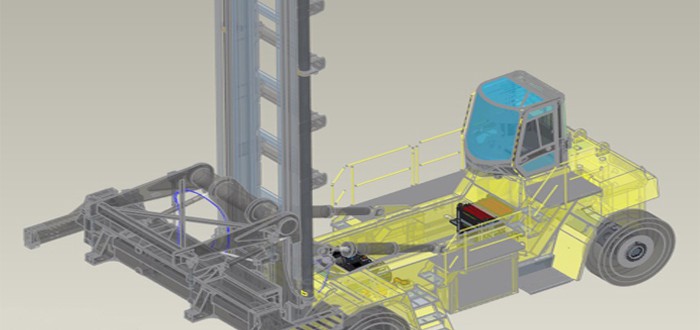 Hyster Europe sponsorers the CeMAT Port Technology Conference.
"Hyster® lift trucks and container handling trucks are a vital part of handling operations in ports and terminals all over the world," says Arndt Reibold, Big Trucks Territory Manager for Hyster Europe.  "Innovation is key for us in providing 360-degree solutions for the particularly demanding applications often found in ports, so it was a natural fit for us to sponsor this event."
The Port Technology Conference, entitled 'Key Challenges of Port Digitization', will look at how digital processes and innovative solutions will support port and terminal operations to meet the needs of Industry 4.0, while helping to reduce costs and manage efficiency.
Hyster Europe is also helping port operators to meet these challenges, with innovative solutions for handling from ship to port-side store. For instance, a 52-tonne capacity Hyster® laden container handling truck with an electric motor and lithium-ion battery is currently in testing.  This unique container handler aims to help ports and terminals to electrify their Big Truck fleets and produce zero emissions and is expected to achieve full shift performance comparable to a diesel-powered truck in the near future. 
The recently launched Hyster® H11XM-ECD9 Empty Container Handler provides another innovative solution for inland terminals. The truck enables double handling capabilities for any empty container, even 40ft reefers carrying the refrigeration units on the same side which would ordinarily cause an offset load, offering significant productivity advantages. 
Smart ports and terminals can boost their efficiency and save money by analysing truck usage data, restricting truck access and controlling daily checks. Hyster Tracker is a telematics system that can help identify under or over-utilised equipment, by truck, fleet or location as well as tracking useful data such as hour meter, cost of operation, periodic maintenance, fault codes and impacts.
Many Hyster® Big Trucks throughout the ports and terminals industry, and other sectors, are provided with innovative customised engineering solutions to meet the differing needs of demanding operations. 
With a full range of handling equipment suitable for ports and terminals and logistics operations throughout the supply chain, Hyster offers service and support globally via its network of strong partners.