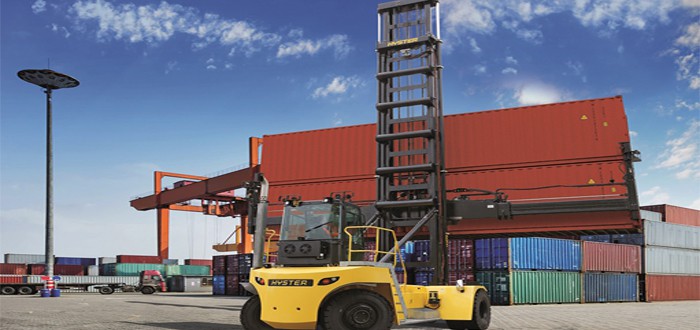 Hyster talks zero emissions and double reefer handling at TOC 2017
Hyster Europe discusses project to electrify container handlers and 11T high capacity empty container handlers at TOC in Amsterdam on 27-29 June. Jan-Willem van den Brand from Hyster explains this project, and more, at this years' TOC Europe Show.
Electrified laden container handlers
Terminals are expected to be able to electrify their Big Truck fleets and produce zero emissions, while achieving full shift performance comparable to a diesel-powered truck in the near future. A 52-tonne capacity Hyster® laden container handling truck with an electric motor will shortly be entering the test phase.
Innovative, high-voltage big electric trucks will be able to support continuous operation with operator-friendly re-charge, or, at a later date, quick H2 (hydrogen fuel) refill options. The Hyster team will be available at TOC to talk about how the company plans to move the industry forward with electrification.
New 11T empty container handler
Hyster is also launching the H11XM-ECD9 Empty Container Handler which enables double handling capabilities for any empty container, even 40ft reefers carrying the refrigeration units on the same side causing a severe offset load. With a capacity of 11 tonnes, it offers significant productivity advantages, as empty containers nowadays regularly exceed a tare weight of 5 tonnes, particularly reefers with wet floors.
Alongside the tough new H11XM-ECD9, there are four other new models in the H8-11XM-ECD9 series, which replaces the popular H18-23XM-12EC series, and will suit both current and future empty container handling requirements.
The size and number of reefers are growing around the world. This lift truck offers more flexibility so operators don't have to handle 40ft reefers separately, saving throughput time. Hyster has been a key player in the growing "empty" market for many years and has further improved the product to help reduce the cost per container moved.
Container weighing for VGM
To enable operations to easily obtain this Verified Gross Mass (VGM) for SOLAS*, especially in areas where Legal for Trade regulations are applied, the Hyster® Static Plus weighing system is now available on new and existing Hyster® ReachStackers and Laden Container Handlers.
Operators simply pick a container and lift the load. There is no workflow disruption as the container weighing can occur during truck manoeuvring and the system is highly accurate with a weighing error of approximately 1 per cent of load weight. Furthermore, with the system custom field entries are possible, including container I.D., destination, location and more.
As well as providing VGM data, the Static Plus system provides accurate information for logistics compliance and reporting. Analysis of this information can also help operations to improve efficiency in container handling applications.
Connected machines
Smart terminals can boost their efficiency and save money by analysing truck usage data, restricting truck access and controlling daily checks. Hyster Tracker is a telematics system that can help identify under or over-utilised equipment, by truck, fleet or location. Hour meter, cost of operation, periodic maintenance, fault codes and impacts can all be tracked and additional functionality includes operator access control.
To drive down fuel or power costs, the idle shutdown function can also be set to power off a truck after a pre-determined amount of time. Operator Pre-shift Checklist Tracking is also possible, providing the quickest way to determine any issues with a truck so that downtime is reduced.
Virtual reality experience
On the Hyster® stand at TOC, visitors will be able to try a virtual reality simulator which accurately re-creates the experience of using a 3 tonne Hyster® Fortens® counterbalance lift truck. Anyone can get behind the wheel for an immersive 3D experience of even the toughest operating conditions.
The simulator has the same seat as featured on the Hyster® Fortens® model plus the same pedals, steering wheel, CANBus and hydraulic controls. The user wears a VR headset and as the head turns it gives different views through the mast, up, down and to the side, while spectators watch the activity on a screen.
Special engineering and support for efficient port and terminal handling
Most Hyster® Big Trucks have some sort of customised engineering, because every operation is different. Hyster creates solutions that efficiently overcome specific challenges.
With a full range of handling equipment suitable for ports and terminals, from ship to port-side store, Hyster offers support globally via its network of strong partners. Hyster® product managers and specialists will be on stand F74 at TOC Europe.
For more information, visit : www.hyster.eu.
*SOLAS – International Maritime Organization "Safety of Life at Sea" Convention