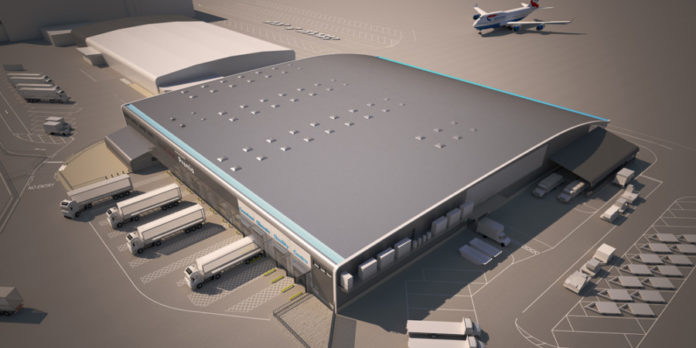 IAG enlarges its horizon.
At a recent presentation at its impressivee Heathrow main office, IAG Cargo announced the approval and construction of a new Premia freight facility which will be double the size of the existing building and will focus on the core developing aspects of Critical and Express goods, and Pharmaceutical handling..
This is a very tangible reflection of the outstanding and positve business growth and confidence within IAG – International Airlines Group – which was created in 2011 and now embraces British Airways, Iberia, Aer Lingus, bmi and Vueling. As such, the group is by far one of the largest and most integrated in the world with 2500 emplyees and reaching 350 destinations via a fleet of 500 aircraft and 15000 flights every week through hubs in London Heathrow, Madrid, and Dublin.
The new state-of-the–art premises represents an investment of £55 million and is due for completion in 2018. As observed by David Shepherd, the IAG Commercial Director " Over the last five years our preimia servce has outgrown genral cargo by a significant percentage and especially recognises our expereince of the pharmaceutical sector with a unique combination of logistics talent and quality assurance whilst also recognising the impact of high speed e-commerce.and our new means of dealing with loose as well as packaged product of any size of load. Plus the increasing worldwide need for highly varied critcal goods such as automotive, high tech parts and engineering products with guaranteed rapid delivery through to express consumer demand including everything from fashion to seafood and flowers. All of which is reflected in our purchasing plan of 90 new generation Airbus and Boeing aircraft"
In location terms the new low-rise Premia building will be alongside the conventional cargo Ascentis highly autoomated facility offering a million tonne capacity, and the skills and systems developed here prove important to Sarah Coulson Head of Strategy and Business Development " At one hundred metres deep and because of the carefully dedicated nature of the contents we are totally focused on the efficeincy and safety of the internal layout and cost control. The key benefits will be 20 extra build and break stations, a major increase in smalls racking, 11 delivery doors, a new IT warehouse management system and constant climate quality control centre.We constantly monitor and absorb best practices and our ethos to always communicate with our customers and provide total service has driven our strong business increase and performance levels".