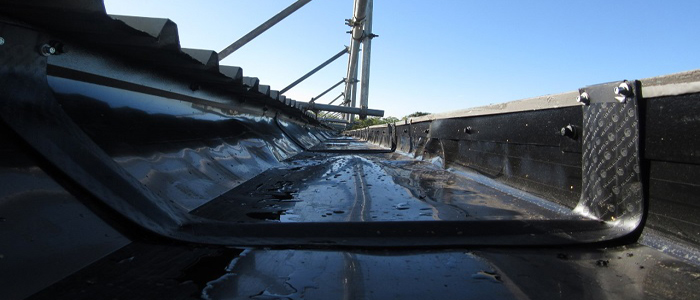 IGNORING GUTTERING IS MONEY DOWN THE DRAIN
An increase of heavy downpours and extreme weather in the UK are wreaking havoc with guttering on many large-scale commercial buildings and leading to shoddy repairs, according to a leading building consultancy.
Leeds based Gent Visick's specialist building consultancy division has overseen more than 10kms of guttering repairs in the last 12 months alone and regularly experiences a surge of calls during intense summer downpours, which are becoming increasingly common. 
The trend looks set to continue with The Met Office predicting that heavy summer downpours will be five times more likely by the end of the century and the organisation says during winter, there is now a one in 10 chance of existing monthly rainfall records being matched or broken in any part of the UK. In addition, seven of the UK's 10 wettest years have occurred since 1998, with 2013 going down as the UK's wettest winter in history, and 2015 as the second worst.
Heavy downpours are increasingly causing dated and blocked guttering, downpipes and below ground drains to overflow and the excess water will often find its way inside the property, causing untold damage. Gent Visick has also come across several recent cases where gutter lining work and roof repairs have been carried out incorrectly and product guarantees haven't extended to the damage buildings have suffered as a result.
Gavin Ritchie, director of Gent Visick's building consultancy division, said: "Guttering and drainage systems on many older buildings, and even new ones that haven't been adequately designed to cope with high volumes of water, will often be overwhelmed by very intense, sudden downpours that regularly hit the UK. This was particularly evident during last year's hot summer and we were inundated with landlords and tenants facing significant disruption during sudden downpours.
"There are several steps that can minimise the risk of flooding from poor guttering, which start with simply checking them every few months for damage and cleaning them out. Lifting manhole covers will reveal whether below ground drainage is free flowing. Plus, it's vital that gutters have a secondary outlet, often called a weir, which enables excess water to drain away."
Gavin added: "In recent months, we've installed more than 1km of guttering at ilke Homes' factory at Flaxby Moor and completed another 1km installation at Wakefield 31, which is a major distribution unit just off junction 31 of the M62 within Wakefield Europort.
"We've also overseen a further 8kms of gutter lining projects in the past year. In many cases, these were repairing poor quality work, which is often accompanied with meaningless guarantees, and this is another major issue. It's important to have lining work checked by a building surveyor. Even though the guarantee might be for 20 years, it often only covers the product, and we find that manufacturers often shed their responsibility by claiming the substrates weren't prepared correctly prior to installation. In some cases, this can even happen when they've visited the site to supervise the installation.
"Using an experienced building surveyor helps to prevent this and it is also worth checking whether the product comes with an insurance backed guarantee that will cover labour and health and safety costs in the event of a problem."
Finally, Gavin said: "It's easy to specify a repair, but it's pointless if the rest of the guttering and substrate isn't up to scratch. It's also vital to check work is being done properly, and that the substrate has been correctly prepared, and this is another area where a building surveyor can really add value, especially because it's not always easy to access roof areas to see what's going on. The surveyor should also liaise with the product manufacturer to ensure work meets their guarantee terms and check all documentation is in place before releasing the final payment for work completed."
Gent Visick is a leading niche property consultancy providing support during acquisitions, sales, lettings and investment transactions. Its services include industrial agency, building consultancy, investment and strategic consultancy.
For further information visit www.gentvisick.com