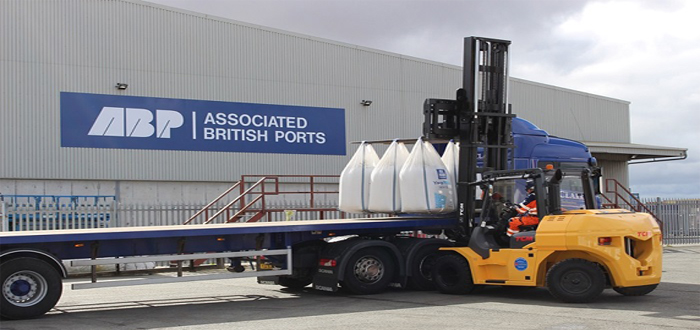 Import Duties: Carrylift Performs For ABP Garston.
he Port of Garston is going through something of a renaissance. Just seven miles from Liverpool city centre and on the north bank of the River Mersey, it is investing in new equipment with the help of an old friend.
A mixed-use port, Garston handles 600,000 tonnes a year from all over Europe and beyond. In the last 18 months, it's seen considerable investment. Owners ABP have spent almost £8m on upgrades and infrastructure including storage and bagging facilities to support a new contract with fertiliser importer, Yara UK.
Finding a location that's spacious enough to store, and capable enough to handle, bulk bags is important. The bags themselves may be just 600Kg when filled, but they require specialist handling. In fact, Garston has a history of such work, and already had facilities and expertise in place to take on the job.
Good links to the M56, M62, and M6 make the port a natural gateway to the industrial heartlands of north-west England and the surrounding counties. For Yara UK, the Garston facility enables them to bring in the appropriate high quality solid fertilizer products from plants in Europe, for use in the north-west of England and Wales.
"This means we can guarantee an efficient service to our local customers," says the business "and we can all benefit from the environmental advantages of eliminating long distance road haulage."
Getting lorries on the road with dozens of bulk bags safely loaded, is no mean feat. The bag's size extends the load centre forward, so extra capacity is required on handling equipment. Forklifts are also designed for use of both forks together, so a 600Kg bag is actually half a 1200Kg minimum load.
Add to that the height involved in multiple stacking and the desire to load a trailer as fast as possible and soon you have a load over 3.6t. It may sound straightforward, but you also don't want those bags to be swaying around or finding that the forks are piercing the bag handles, as some are prone to do.
To ensure all the correct measures were taken, ABP turned to Carrylift for help. Having supplied a number of trucks to the port over the past decade, they were quickly on hand to provide large capacity short term rental trucks while the new equipment was being sourced.
"We knew it was important to get the details right," says area sales manager, Howard Bond. "We've been here before and our engineering team were able to fabricate the correct specification forks, not only to prevent them cutting into the handles, but to provide stops for them not to move too close to the mast."
It's just part of the attention to detail that Carrylift has become well known for. The company helps to make materials-handling operations smooth and simple. Something which ABP's Brian Wright knows well.
"We operate in a large concrete yard, it's fairly exposed to the elements, and security is important, so there are lights, fences and other important items of infrastructure. We need good visibility to be able to navigate around them, as well as reliability to be available when we need them – and with the support of Carrylift, we believe that's exactly what we have."
Replacing the Nissan hire trucks are two new TCM 7.0 tonnes capacity machines on long-term contract hire. Equipped with a turbo charger and intercooler system, the larger FD Series delivers maximum power at low engine speeds, whilst the cooled exhaust gas recirculation (EGR) system reduces NOx emissions.
"You can see from the job at hand that these trucks need to work well and quickly," adds Howard. "The operators like the set up and find the controls familiar, having previously experienced the Nissans. When the models are refreshed, we're confident they'll retain the right characteristics."
As for Garston, the future continues to look bright. The port now handles aggregates that will be used in building projects from HS2 to new roads, whilst cement, sand, salt and some coal and steel importers are also taking advantage of the location.
"We've got a great location and the right attitude," concludes ABP's Brian Wright. "We have a lot of work to do, but that's great now we have the tools for the job and the support to back it up."