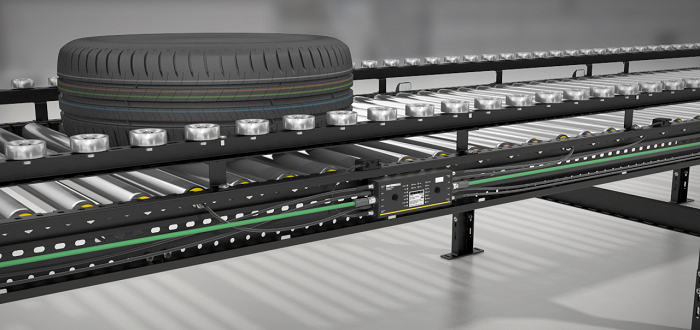 Interroll brings Formula 1 to the Tire Technology Expo 2018.
At this year's Tire Technology Expo, the Interroll Group, the world's leading manufacturer of material handling solutions, will present their solutions for automated production. At the international trade fair for tire manufacturing, taking place February 20–22 in Hannover, Germany, visitors to Interroll's can look forward to more than just a glimpse of the company's product range. By presenting an Alfa Romeo Sauber F1 race car on the stand, Interroll also brings Formula 1, the top tier of international motorsports, to the fair.
In addition to distribution logistics, which is particularly profiting from the flourishing e-commerce sector, production logistics presents an interesting growth market when it comes to material handling. This is because the manufacturing industry is being confronted with increasingly demanding challenges to stay internationally competitive; these challenges include pricing, productivity and occupational safety. As a result, interest in material handling solutions that are based on high-performance, efficient and flexible technology has risen sharply.
Solutions from Interroll have been used successfully by global tire and automotive industry leaders including Goodyear, Continental, Bosch and Pirelli. A range of suitable solutions is offered, among them some from leading Interroll partners such as Vanriet, the Beumer Group, Uteco Contec and Cassioli. Generally, these solutions use modern drum motors and 24-volt RollerDrives, technologies which stand out for their compact design and low energy consumption, as well as their particularly low-noise operation. On this basis, conveyor systems with zero pressure accumulation can be set up effortlessly, thanks to the decentralized drive and control concept. By using modular Interroll conveyor platforms, these solutions offer a high degree of flexibility, which provides significant additional advantages, for example, when it comes to expanding or retrofitting the system.
"We at Interroll have a passion for tires and cars. We ensure quality, speed and user-friendliness. Together with our partners—who integrate systems all over the world—we provide sector-specific solutions for the tire industry. We fulfill the requirements of our global customers with our products and our unique international presence", says Maurizio Catino, Senior Director Global Sales & Services at the Interroll Group.
Customers and interested parties can learn about more from the experts at the Tire Technology Expo 2018 than Interroll's innovative conveyor solutions. At the company's stand (hall 2, stand 3038), visitors can also admire a Formula 1 race car from the Swiss Alfa Romeo Sauber team, with which Interroll has had a close partnership since 2012.