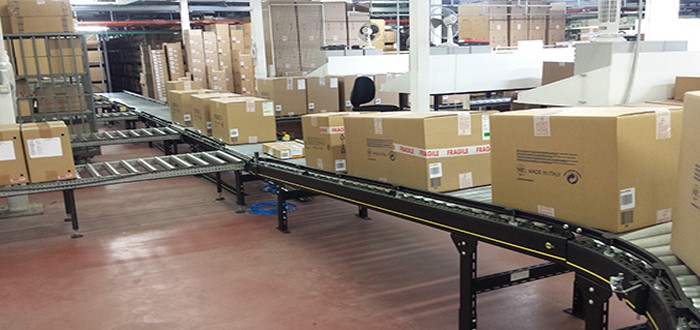 Interroll modular conveyor platform implemented for Paul & Shark automated warehouse.
Gallarate (Varese) based Alpi Sistemi S.r.l. designed and implemented the new automated warehouse for DAMA SpA, who owns the famous brand Paul & Shark. This solution designed and created by Alpi Sistemi and utilizing Interroll's modular conveyor platform (MCP) boosted productivity in this specific sector by 150 percent.
DAMA SpA was founded in Varese in 1921. Inspired by the world of yachting, the company launched the brand Paul & Shark in 1970, a luxury sportswear brand that attracts those who value the "Made in Italy" hallmark and the high-performance technical materials the company uses. Paul & Shark collections are sold around the world through a network of more than 250 single-brand flagship stores.
The entire DAMA production passes through its central warehouse in Casciago (Varese). A logistics hub in the truest sense of the word, all the goods the company produces transit through this facility before being sent to its retailer network. The 27,000 sqm warehouse has multiple levels; inside it is sub-divided into areas for different material handling tasks, including the areas for folded and hanged items with lines that allow automated handling and storage.
Alpi Sistemi s.r.l., based in Gallarate (Varese), designed and implemented the made-to-measure system in order to optimise the workflow and increase efficiency. The main element of the platform is a robust, modular system that incorporates the various key elements of conveying systems to form a complete material flow solution that renders the services needed. Interroll was called in to handle the sizeable quantity of packages entering and leaving the distribution centre. After thoroughly assessing the distribution and handling needs of the Centre, Interroll provided around 100 metres of its MCP, equipped with the 24 V RollerDrive controlled by the Interroll MultiControl.
24 V technology delivers high-performance operation
Head of Logistics and Operations at DAMA SpA, Andrea Di Cesare, expressed his complete satisfaction with the realisation of the new system, "We needed to implement an automated system for sorting, closing and labelling packages, with the aim of drastically reducing delivery times, boosting productivity and shipping with greater reliability. Alpi Sistemi and Interroll worked together brilliantly to achieve this, creating a system that surpassed my expectations in terms of functionality, quietness and energy consumption."
Stefano Gornati and Roberto Mombelli, directors of Alpi Sistemi, shared their client's satisfaction. "Our philosophy is based on combining decisions and results with ethical concerns, respecting human values and professional development in order to foster trusted relationships with clients and create excellent products. The collaboration with Interroll provided us not only with superior quality products but also with excellent technical counsel that enabled us to find the right solutions to the problems that arose when creating something as complex as the new DAMA distribution centre. Fashion is demanding, both in the finished product and in the quality and punctuality of its delivery."
Alpi Sistemi provided the integration of automatic weighing, barcode reading, volume measuring, and labelling into the line. Software integration has been provided by Alpi Sistemi as well. The platform employs very efficient 24 V technology that delivers high-performance operation, which is also practically noiseless. The highly versatile Interroll conveyor platform has proven to be the perfect choice as it can be adapted to the most diverse specific needs of clients and users alike. Furthermore, it is possible to use the platform as a basis for retrofitting systems for the flow of materials in a particularly quick and practical manner. The modules, most of which come pre-assembled, made the system easy to install. The MCP is controlled by Interroll MultiControl, the new network interface card for PROFINET, EtherNet/IP and EtherCAT. With help of the MultiControl, sensors and RollerDrive are directly integrated in to the field bus level. www.interoll.com