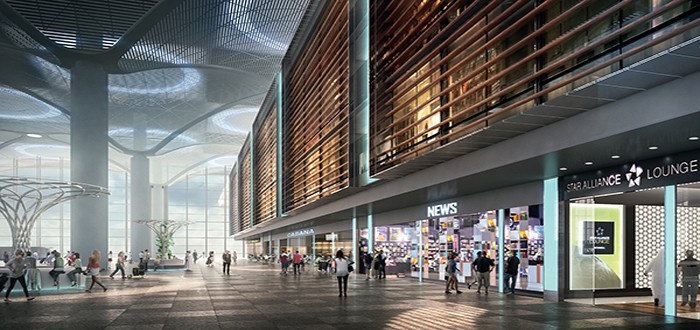 Istanbul's New Airport at the centre of the "aerial" Silk Road.
Cracking the door open for the aviation of the future, agreements for İstanbul New Airport in different branches of business from cargo to ground services and retail are being signed. The airport, which will serve around 100 airlines companies, will build up an "aerial" Silk Road. The name "Silk Road" comes from a historical network of trade routes started during the Han Dynasty (206 BC – 220 AD) between Europe, India, China, and many other countries on the Afro-Eurasian landmass.
The airport, will be able to host airlines companies that will come to Turkey for the first time. It is getting ready to be the window display to showcase Turkey to the rest of the world. Besides hosting around 100 airlines companies, state-of-the-art practices of passenger experience, comfort and technology will be offered.
Scheduled to open next year, more and more commercial agreements are being signed. "In May, we signed important agreements with our business partners in the fields of cargo, ground services, commercial zones, and airlines companies", says Hüseyin Keskin, CEO of İGA Airport Operation. "At the moment we are negotiating further contracts in these fields. Our airport will enable the connection of countries like India and China to İstanbul, which was not possible before, establishing an 'aerial' Silk Road. Collaborating with global actors whose joint trade activities date back to centuries ago, we will generate new opportunities and bring breath of fresh air to competition not only in Turkey but across the world."
İstanbul as a hub has got an unbeatable geographic position as a natural bridge between East and West, North and South- like the Silk Road did in former times. As an attractive destination in aviation, İstanbul New Airport will host important retail brands that had not been in the Turkish market before. With the largest duty free space of the world, the airport will be home to about 400 global brands.