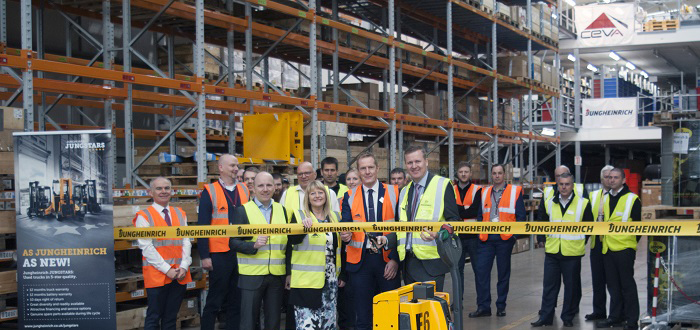 Jungheinrich launches UK based parts centre for connected customer service.
Jungheinrich UK has announced the launch of a specialist parts centre based in the Midlands to further support its end-to-end customer service model. The new parts centre will equip service engineers with even faster access to required parts in the drive towards connected customer service.
The introduction of a UK based parts centre will facilitate next level customer response times, provide greater availability of parts, decrease lead times and drive efficiencies, while maintaining and improving SLAs. Jungheinrich's customer service engineers and customers alike will continue to benefit from the online ordering platform and instant access to invaluable product information with the addition of later order cut-offs and faster delivery times.
The centrally located parts centre will support connected customer service teams, informed by and armed with the latest technology and tools, to continue adding real value to the customer interaction by evolving alongside their changing long-term requirements. In today's 24/7, consumer driven economy, a key aspect of the connected customer service model is the speed with which spare parts can be attained and a UK based parts inventory will reinforce and enhance the high-quality experience provided by the engineers.
The launch is part of a continued global investment by Jungheinrich to ensure it provides dedicated and local support to its growing international customer base. This investment into the UK market will ensure that Jungheinrich UK continues to be a market-leading intralogistics provider with an unparalleled localised support structure, which includes wider accessibility to parts and the information critical to supporting businesses with 24/7 service operations.
Steve Shakespeare, Director – Customer Service, Jungheinrich UK, comments: "Jungheinrich's customer service engineers have always been and will continue to be an essential component of the working relationships we build. Group-wide, Jungheinrich is focussed on developing a strong engineer network that provides extensive and unparalleled customer support. The addition of a UK parts centre will streamline our existing operations, allowing for a more tailored UK customer support system.
"Our customers require two critical elements from their customer services teams – trucks and solutions that operate as efficiently, safely and effectively as possible, and technical support and expertise. At Jungheinrich we endeavour to ensure our engineers have access to the highest quality support, training and tools to help them provide a truly connected customer experience and the opening of the UK parts centre is pivotal to supporting their continued success."