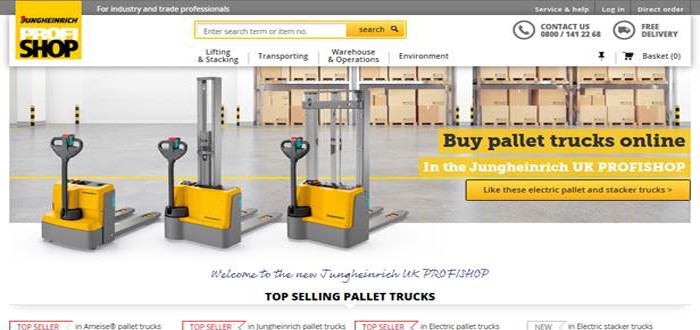 Jungheinrich PROFISHOP online store opens for business in the UK.
Jungheinrich has today announced the launch of PROFISHOP UK, an eCommerce portal unique within the forklift truck industry, to provide a more flexible, always-accessible browsing and purchasing experience for UK customers.
First established in Germany in 2006, the Jungheinrich PROFISHOP has since been introduced in nine other European countries and achieved a turnover in excess of £58 million. This year the UK is one of six countries to adopt the platform as part of the continual expansion and international growth of the Jungheinrich eCommerce business, which saw a net sales increase of 19 per cent in 2016.
Showcasing a range of material handling equipment from Jungheinrich and select partners, PROFISHOP UK will feature up to 2,500 articles by December 2017. Underpinned by leading delivery times and attractive prices, the launch range comprises Jungheinrich hand pallet, electric pallet and electric stacker trucks, along with a variety of complementary warehouse equipment, including scissor lift tables, platform trucks, storage containers and more.
Jan Lorenz, Managing Director, Jungheinrich UK, comments: "Businesses across the board are experiencing increasing customer demand for service that's quicker, more flexible and available 24/7. In turn, they rely on Jungheinrich for the high level of support, expertise and quality equipment necessary to meet that demand, which are more accessible with the addition of our online store.
"With PROFISHOP UK, our multi-channel approach encompasses even more touch points to make it as easy as possible for our customers to work with us in the way that best suits them – whether that's over the phone, face-to-face with one of our Area Sales Managers, or indeed anytime online."
To celebrate the launch, Jungheinrich UK is offering PROFISHOP UK customers a £20 discount from the basket total of all orders over £200 before 30th June 2017. The offer can be redeemed by simply entering voucher code: PROFISHOPUK£20
For more information on PROFISHOP UK please visit: www.jungheinrich-profishop.co.uk