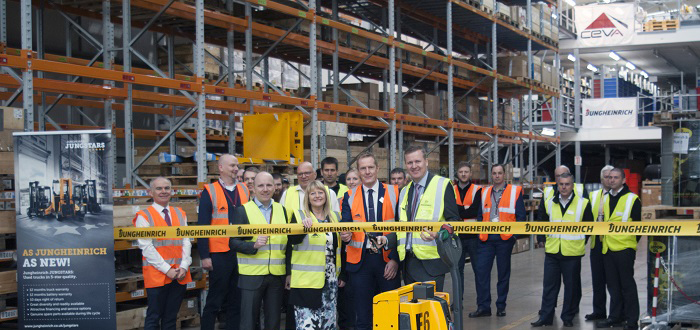 Jungheinrich UK announces new research that redefines MHE rental
– 61 per cent of organisations using forklift truck rental consider the market out of sync with today's 24×7 requirements –
Jungheinrich UK has today released extensive research into the forklift truck rental market, which reveals strong demand for more flexible acquisition of essential equipment. For organisations across distribution, logistics & transport, manufacturing, construction, wholesale and retail, rental plays a key role in managing exceptions – from peak demands to seasonal fluctuations, and the forklift rental market is risking misalignment with the flexibility organisations now require.
Digital disruptors are influencing every aspect of business, underpinning a shift in customer expectation that demands new thinking to deliver service that's faster, more flexible and available 24×7. Redefining Rental for Materials Handling Equipment, a new white paper sponsored by Jungheinrich UK, based on research undertaken by Sapio Research, reveals a significant shift in the way rented equipment is considered and utilised as a result, which the forklift truck rental market must evolve to meet.
Currently, however, almost two thirds (61 per cent) agree that the nine to five approach to equipment hire is out of sync with today's 24×7 demand – and a quarter of respondents (25 per cent) feel that the truck rental market is outdated compared to other rental markets. Instead, a more flexible approach to forklift truck rental is required, as highlighted by the following key findings:
Fast delivery times and cost are of near equal importance when it comes to hiring a truck (fast delivery times were cited as very important by 81 per cent of respondents, and cost by 79 per cent). What's more, 51 per cent of those surveyed agree they could benefit from quicker delivery of hired forklifts.
The shift in attitude to equipment acquisition is underpinned by the changing concept of what has traditionally been known as 'short term' within the rental model – with 40 per cent considering short term to be in excess of three months.
There is increasing polarisation in the 'short term' market – while 71 per cent use forklift truck rental between one and five times a year, at the other end of the spectrum 16 per cent will hire trucks in excess of 15 times a year. Both of these trends reinforce the idea of using a flexible hire service as a way to effectively manage market volatility and complement traditional contracts.
While the vast majority (80 per cent) use hire systems based on weekly agreements, there is considerable interest in contracts that are based on a daily basis (22 per cent). A significant number of respondents (60 per cent) also cited the hire periods available as influential in the decision to hire a truck.
There is strong interest (76 per cent) in a rental model predicated on truck usage – based on telematics data – rather than a fixed term agreement. Such confidence in telematics data reinforces the way organisations are increasingly exploring technology to drive innovation in so many areas, including the Internet of Things (IoT) – and equipment rental should be no different.
Neil Warren, Sales Management Director, Jungheinrich UK, comments: "Faced with today's raft of political and economic uncertainty, combined with rising consumer expectations, organisations are under increasing pressure to assess and adapt their operations to remain profitable. Opportunities to release working capital, scale up and down without risk, find ways to respond to customer demands and explore technology innovation without long term commitment are business critical – and the materials handling market must not only respond to these operational changes but lead them.
"As the research highlights, the logistics industry still suffers from a reputation of being 'outdated' or slow to innovate, and Jungheinrich is committed to turning these perceptions on their head. Jungheinrich recognises that 'short term' fork lift truck rental now means different things to different people and we are committed to providing a totally flexible approach to rental in response."
Earlier this year, Jungheinrich UK announced the launch of its Power Buy the Hour range of rental packages, a highly flexible and completely new approach to counterbalance forklift truck rental in the UK. Supported by greater availability and shorter delivery times, the packages provide customers requiring contracts of 12 months or more with the scope to more easily move up and down price bands, utilising telematics data that can be made visible through the new Power Buy the Hour mobile app launching in 2018.
Redefining Rental for Materials Handling Equipment is based upon research conducted by Sapio Research sponsored by Jungheinrich UK, comprising findings from 300 interviews with individuals responsible for forklift trucks in organisations that used them on a short term rental basis. To read the full white paper, please visit: http://go.jungheinrich.co.uk/rental-whitepaper
–