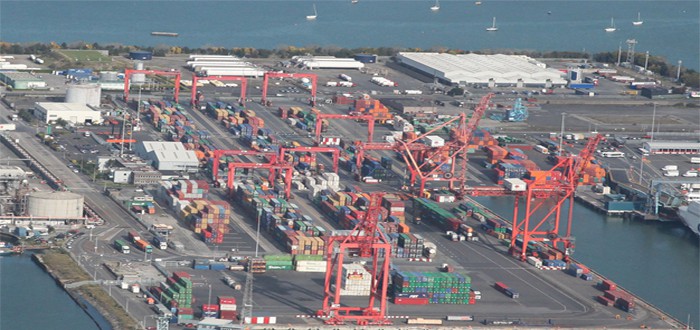 Kalmar and Dublin Ferryport Terminals to enter ground-breaking cooperation in RTG automation.
Kalmar, part of Cargotec, is to extend its long-standing relationship with Dublin Ferryport terminals (DFT) with an order for Kalmar AutoRTG System. The order was booked in Cargotec's fourth quarter 2016 intake and delivery is scheduled to start during second quarter 2017.
Part of the container and terminal division of Irish Continental Group, DFT operates the most modern container terminal at Dublin Port. The terminal handles approximately 325,000 TEUs each year and is anticipating significant growth of around 20 per cent over the next five years. The order forms part of DFT's investment programme focused on ensuring the terminal is equipped with the latest technologies to support expected growth.
The scope includes two Kalmar AutoRTG cranes with fully automated stack operation and remote controlled truck handling. DFT will start with semi-automated functions which are controlled remotely, and add fully automated features in the stacking area in the future. Kalmar is also responsible for integrating the cranes to the terminal operating system. Service, maintenance and technical support will be provided by Kalmar's site based engineering team who have a permanent presence at the terminal.
Alec Colvin, General Manager at Dublin Ferryport Terminals says: "DFT are delighted to confirm this order and are looking forward to extending our long-time partnership with the latest driver assisting, semi-automated and automated solutions. As a trusted long term supplier with a demonstrated ability to deliver on our expectations and their commitment to be a technology leader in this area, Kalmar stood out as the ideal partner for our company."
Tero Kokko, Senior Vice President, Automation and Projects at Kalmar says: "RTG automation is developing fast. For existing terminals it is a key question how to get started without disturbing operations heavily. We have given this a lot of thought and in our approach the terminal can start with remote control and automation assisted moves, and evolve to full automation gradually." He continues: "We are very pleased to have concluded this deal with DFT, a company that we've enjoyed a great working relationship with for over 20 years. This is one of the first RTG projects of this kind in the world, so we are excited to move forward and continue to support DFT with their automation journey and their ambitious growth targets."
The Kalmar RTG helps cut costs and eliminate emissions and noise without compromising productivity, reliability or flexibility. The electric power system completely eliminates the need for engine component maintenance, which translates into much lower downtime and reduced maintenance costs. DFT's existing fleet includes five Kalmar RTGs, four Kalmar empty container handlers and a Kalmar reach stacker. www.kalmarglobal.com